Creativity meets business management in this BA program.
Our Business of Art and Design degree equips students with the design and management skills, tools, and professional experience employers value most in today's economy. Immerse yourself in all aspects of the creative industries, collaborate on teams across creative disciplines, and learn strategies for taking your ideas from concept to market.
Our curriculum is designed to be flexible, empowering you to tailor your academic experience to your interests and career goals. Tackle real client projects to build your resume and portfolio or dive into developing your own creative business. The opportunities are endless with this unique design management combination degree. Our graduates work as animation producers, production coordinators, brand strategists, and marketing managers at top companies, including DreamWorks, Pixar, JibJab, Blue Mammoth Games, Deloitte Digital, Game Developers Conference, and more!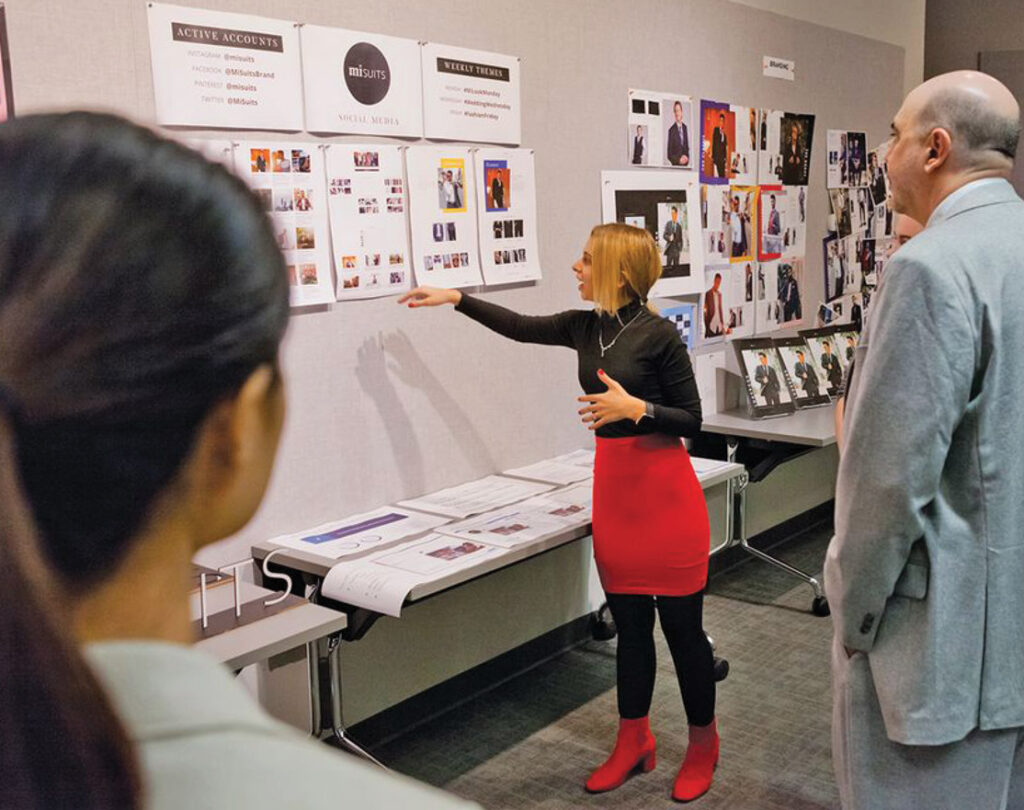 Case Study: Brand Activation at South by Southwest (SXSW)
Our business students coordinated a full-scale brand activation at South by Southwest to launch a new VR video game WetDog Corp.
Senior Thesis Exhibition Reel 2018
Behind the Scenes: Artists Minding Their Business
INDEX: Redefining Experiential Learning
Student Work: Project Presentations
Pixie Dust: Studio Strategy and Game Production
This senior thesis project put creative business skills into practice for a real-world client. In a partnership with the Lewis Foundation, senior Pablo Murray-Campbell coordinated the production of two visual novels and devised a strategy to transform a game development startup into a scalable and sustainable business. Pixie Dusk will operate as the first major independent studio to consistently develop and self publish high quality English-language visual novels.
Magical Mom: Production Management for Animation
Want to know everything a production manager does behind the scenes? This thesis book by Yu Ting Lin, class of 2018, takes readers on the journey from pre-production to distribution. Go behind the scenes of the animated short, Magical Mom.
Legal Limbo: The Intersection of Law and Storytelling
Through exclusive interviews with entertainment attorneys and studio executives at various media powerhouses (Warner Bros, National Geographic, DreamWorks Animation, HBO), Legal Limbo: The Intersection of Law and Storytelling explores the ever-changing legal dynamics of various creative sectors within Hollywood's multibillion dollar media and entertainment industry, including exclusive insight into entertainment law, film and television, intellectual property, and emerging trends and innovations that will leave a lasting impact for years to come. This senior thesis project was produced by Emily Fritz, class of 2020.
The Wurst Movement: National Student Advertising Competition
How do you elevate the image of the hot dog after years of shame? That's what Wienerschnitzel challenged teams to explore for the 2019 National Student Advertising Competition. Our solution? A national ad campaign that called people to tear down the misconceptions and eliminate the surrounding shame. This includes stadium takeovers, a Museum of Bias and Bullsh*t, and Wurst Wednesdays. This project was a collaboration between students in the Business, Graphic Design, and Film majors. Third-year Business student Ellie Winslow was awarded Best Presenter at the District NSAC competition for her live pitch of this campaign.
Ally Sage '16
Production Coordinator | Marvel Studios
Alexandra R. Tibbe '14
Freelance Prop Master and Set Decorator | Film and Television
Ayu Saraswati '14
Product Owner, Digital Strategy | US Bank
Martha Patouris '18
Account Manager and Producer | Epipheo
Daisy Lora '16
Head of Talent | Solve
Nazanin Varasteh '14
Senior Brand and Marketing Manager | Solico Group
Sarah McCauley '12
Marketing Manager | Game Developers Conference (GDC)
Wendy Oliva '15
Digital Marketing and Social Media Manager | Juki America, Inc.
Lauren Huber '14
Proposal Coordinator, Business Development | WSP USA
Taylor Vigil '12
Marketing Specialist | Sunny505
Maria de la Riva '14
Senior Product Designer | Zalando
Devin Houston '18
Account Executive | Vanta
Pablo Murray Campbell '20
Associate Producer | Blue Mammoth Games
Andrés Bronnimann '18
Independent Film Producer and Director
Opportunities for students
Resources for Business of Art and Design Students
Business of Art and Design News
Start your business career at Ringling College.