Find yourself—and your community.
You'll discover a place where you belong—within a community of creators, storytellers, inventors, second guessers, critical thinkers, and problem solvers.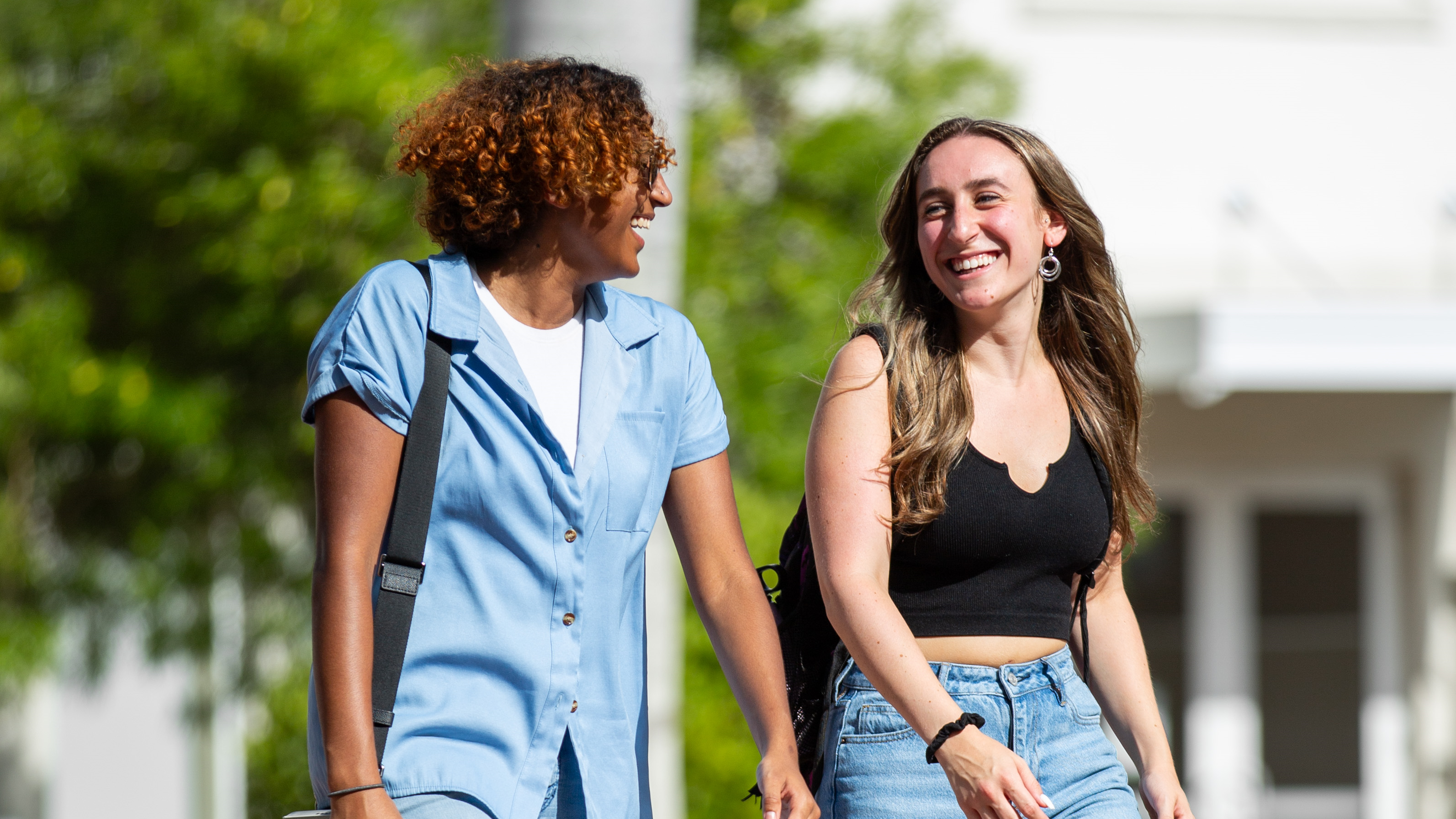 Experience Ringling College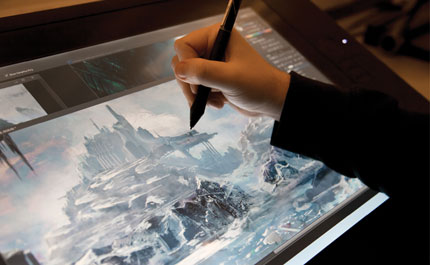 To help our students become future creative visionaries, we make sure they have the best technology that mirrors the professional industries.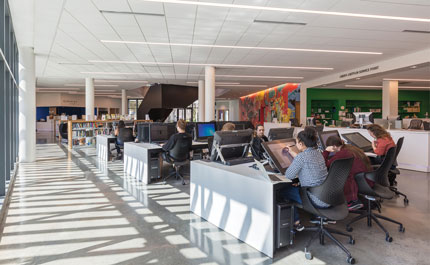 Who says libraries have to be quiet? Our library of the future, the Alfred R. Goldstein Library, allows students the space to spark creative collaboration and conversation.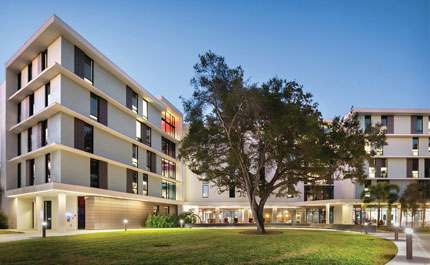 Designed for the 21st-century student, our Residence Halls cater to the ways our students like to live, create, communicate, and learn.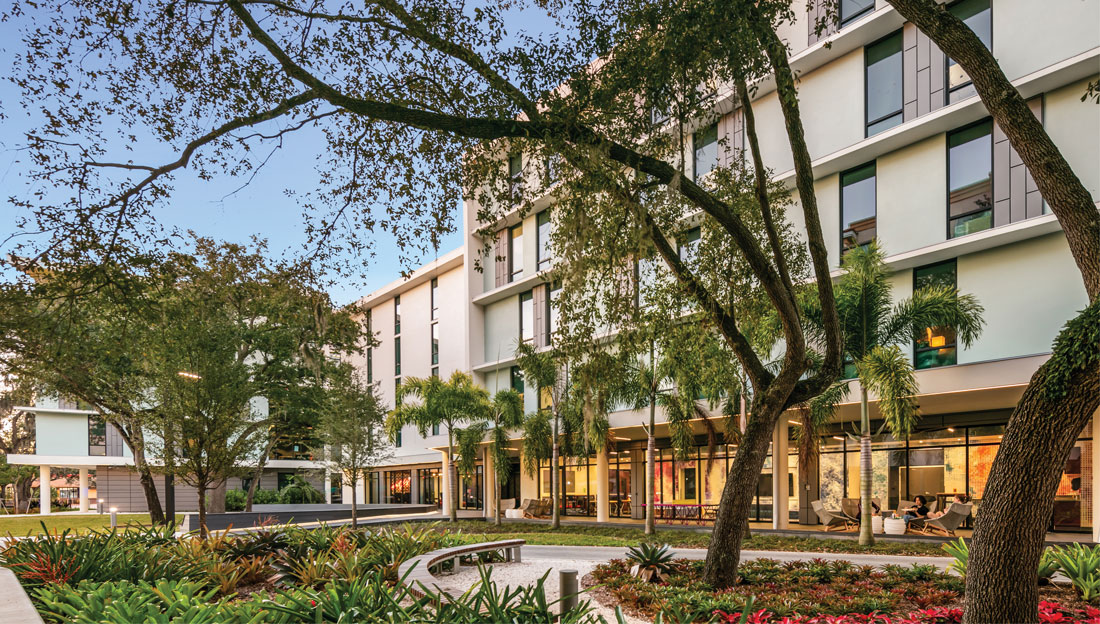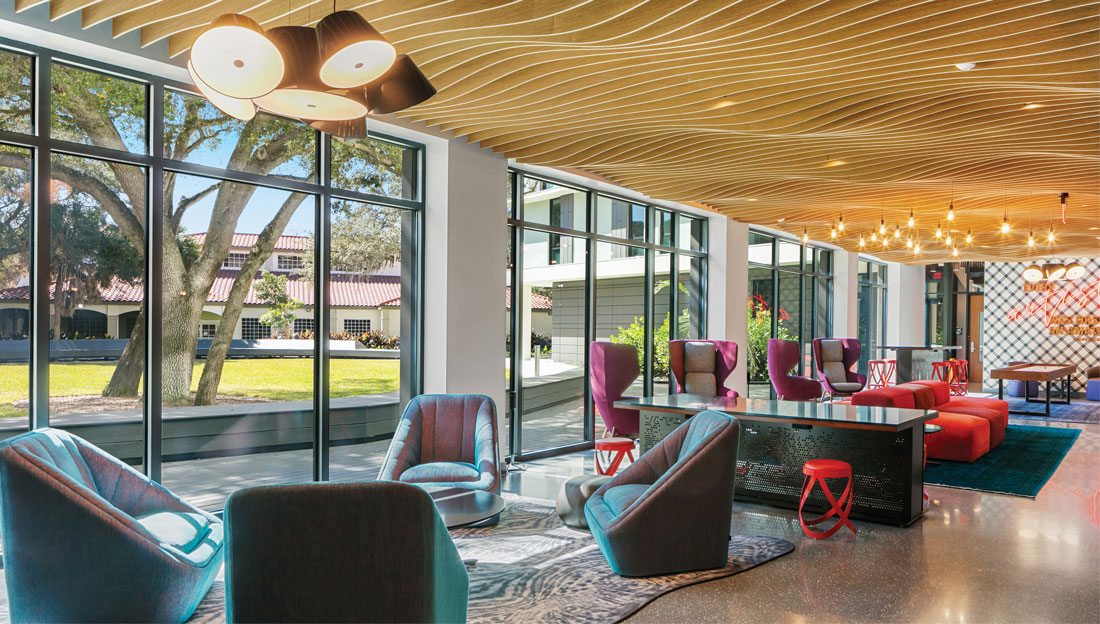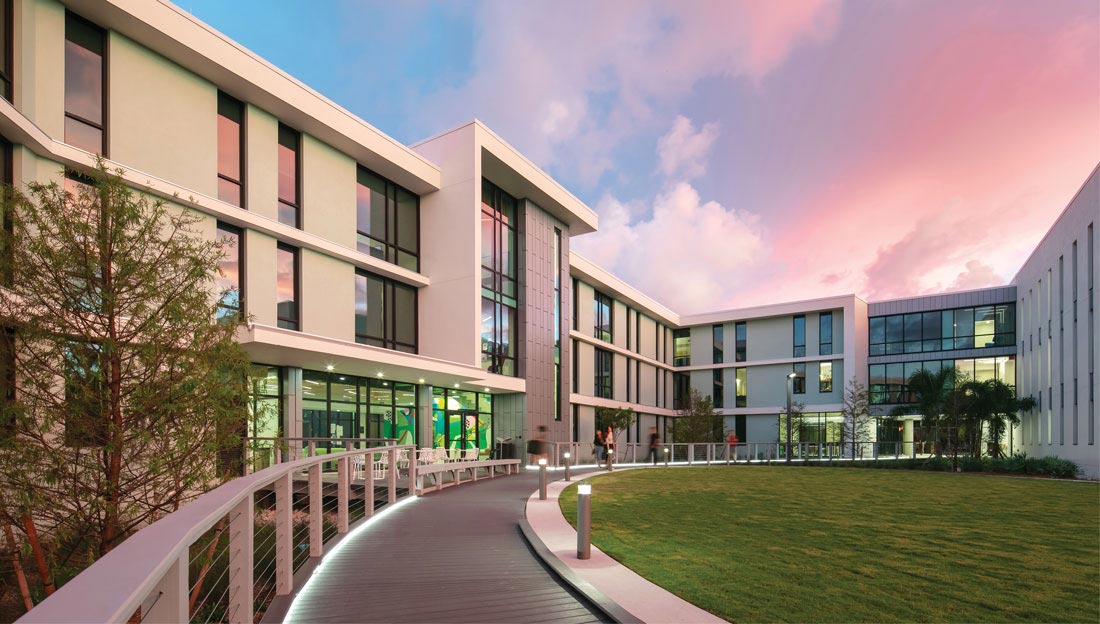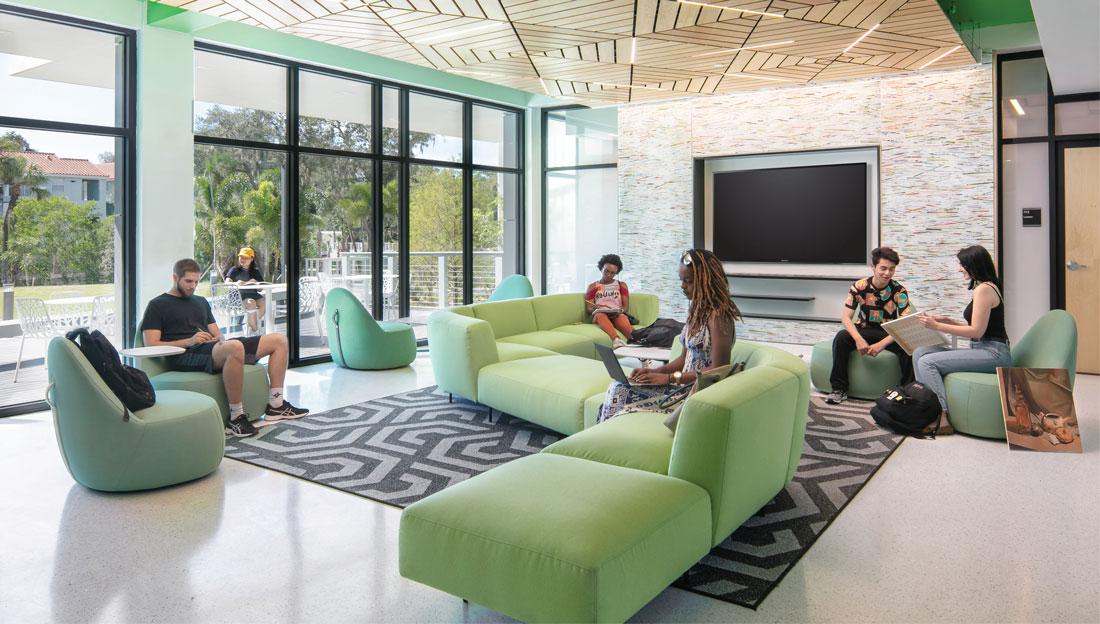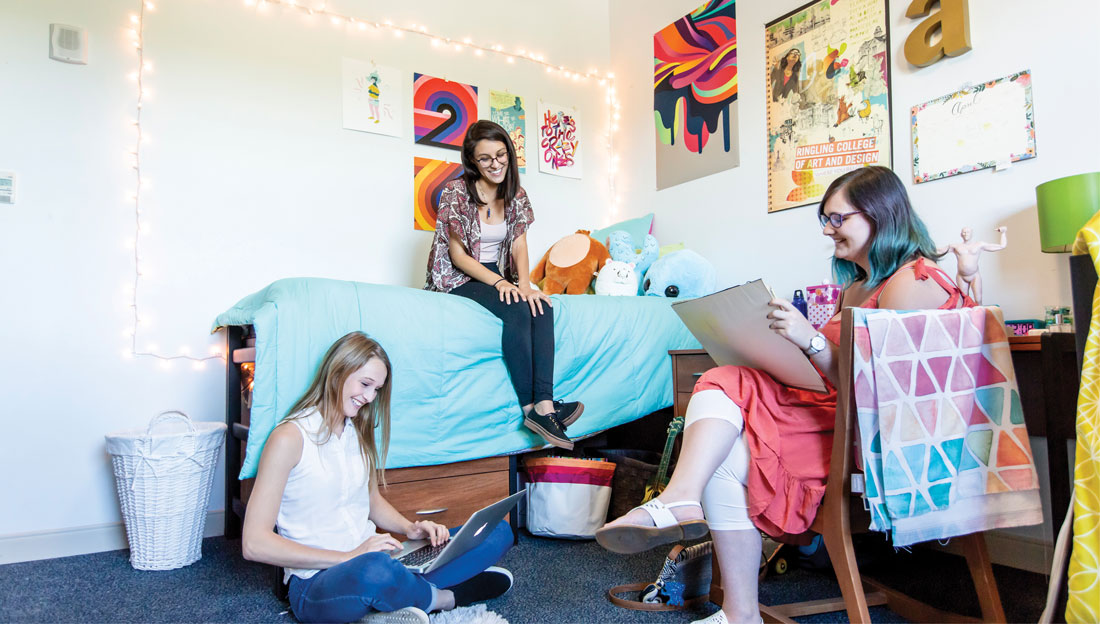 With new residence halls, multiple apartment complexes, and over 30 near campus houses, Ringling College offers students a wide array of options for housing. And since over 70% of students choose to live on campus, we strive to make our campus housing convenient, safe, and comfortable. Our amenities include furnished living quarters, three meal plan options, on-call staff, proximity to campus services, classrooms, and studios, all utilities, and 24-hour security. For additional safety, access to each floor of our residence halls is limited to its inhabitants only.
But we go beyond the typical college residence halls. Our housing is designed specifically for creatives, offering plenty of collaboration spaces, large-scale project workrooms, and access to our many student resources.
First-year students reside in Goldstein and Greensboro Halls, centrally located on campus for convenience and proximity to our facilities.
Goldstein Hall
Goldstein is a state-of-the-art facility built for collaboration. The ground floor offers a student lounge area called The Blue Room, the mailroom, Residence Life offices, and a large multipurpose space for student events. Goldstein rooms are double suites connected by a bathroom to another suite. They typically measure 11x16 ft, and each floor is equipped with project rooms for creating large-scale projects.
Greensboro Hall
Greensboro Hall opened for new, incoming students in the Fall 2020 semester. Rooms in Greensboro Hall are suites with two double rooms (2 students in each room) sharing a common room. The common room contains the bathroom and a refrigerator and microwave to share. Greensboro Hall also has four person suites with private bedrooms on each floor. Just like the suite doubles, the four students in single rooms share a common space, bathroom, refrigerator, and microwave. In addition to lounges on each floor, this building is equipped with a community kitchen.
Ulla Searing Student Center
Students in Ulla Searing have in-house access to an array of student resources, including the Fitness Center, recreation spaces, Outtakes Café, design labs, and Student Life. Each room measures 11x16 ft, and enjoys a private bathroom with shower. Every wing offers large student lounges built for collaboration.
The Cove
Located on Whitaker Bayou, The Cove offers singles, doubles, and triples and requires students to have a meal plan. Each double and triple has a private bathroom, and the singles enjoy a half bath and shared hall showers. Outdoor areas are set up for waterside dining, lounging, and manatee spotting!
Keating Hall
Keating is a fully restored,1920s era hotel that is located near the Hammond Commons dining hall, Student Center, classrooms, and studios. Measuring 10x10 ft, these single bedrooms offer a unique, historical living experience in the heart of the campus. Bathrooms/showers are located down the hall.
Third and Fourth Year Housing
Students in their third and fourth years at Ringling College are housed in the Ulla Searing Student Center, The Cove, Roy and Susan Palmer Quadrangle, Bayou Village Apartments, Bridge Hall Apartments, 2409 Bradenton Rd, and "Near Campus" Housing. Upper-class student Resident Assistants (RAs) live in each area of student housing and come up with fun activities for students to build community while helping to facilitate a comfortable and safe living environment. Master's level professionals also live on campus and provide additional support.
Ulla Searing Student Center
Students in Ulla Searing have in-house access to an array of student resources, including the Fitness Center, recreation spaces, Outtakes Café, design labs, and Student Life. Each room measures 11x16 ft, and enjoys a private bathroom with shower. Every wing offers large student lounges built for collaboration.
The Cove
Located on Whitaker Bayou, the Cove offers singles, doubles, and triples and requires students to have a meal plan. Each double and triple has a private bathroom, and the singles enjoy a half bath and shared hall showers. Outdoor areas are set up for waterside dining, lounging, and manatee spotting!
Roy and Susan Palmer Quadrangle
These apartments are located near our Academic Center and are set up like traditional two bedroom apartments, some with two bathrooms and some with one. Apartments with two bathrooms hold three students, while those with one bathroom serve two. All of these units have full kitchens.
Bayou Village Apartments
Fully renovated in 2021, this option is for students who want more independence. These are some of the most sought-after rooms on campus, each suite consists of four singles, two bathrooms, a living room, full kitchen, and patio/balcony.
Bridge Hall Apartments
Located across the Whitaker Bayou to the east side of the Bayou Apartments, this is our newest apartment style residence. Most apartments consist of four single bedrooms, two bathrooms, living room and full kitchen. Amenities include a pedestrian bridge that connects to the Bayou Village, patio with ping pong, and secure bike storage.
2409 Bradenton Road (formerly Family Housing)
We offer both one bedroom and two bedroom units in this eight unit building near campus. Offering a wonderful view of Whitaker Bayou, this structure is located near the Academic Center and plenty of student resources.
"Near Campus" Houses
Ringling College has been steadily acquiring single family houses in the community surrounding our campus to provide a more independent lifestyle for upper-class students. We renovate as needed and manage them through Housing and Residence Life. Houses are typically two or three occupancy with both singles and doubles.
Sustainability at Ringling
Here at Ringling we are committed to a green and sustainable future.
We believe that through education, collaboration, and creativity we can help make our campus and the world a cleaner, healthier, and brighter place to be.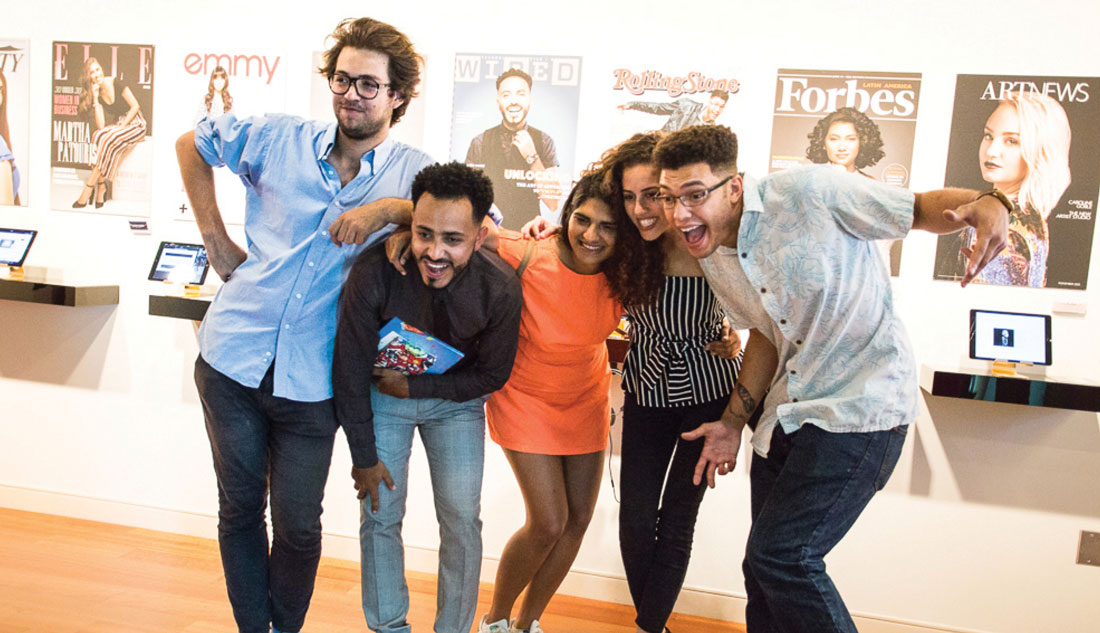 At Ringling College, we believe that art and design exists and thrives through diversity. We are a community of beliefs and backgrounds from every corner of the world. And you are welcome here.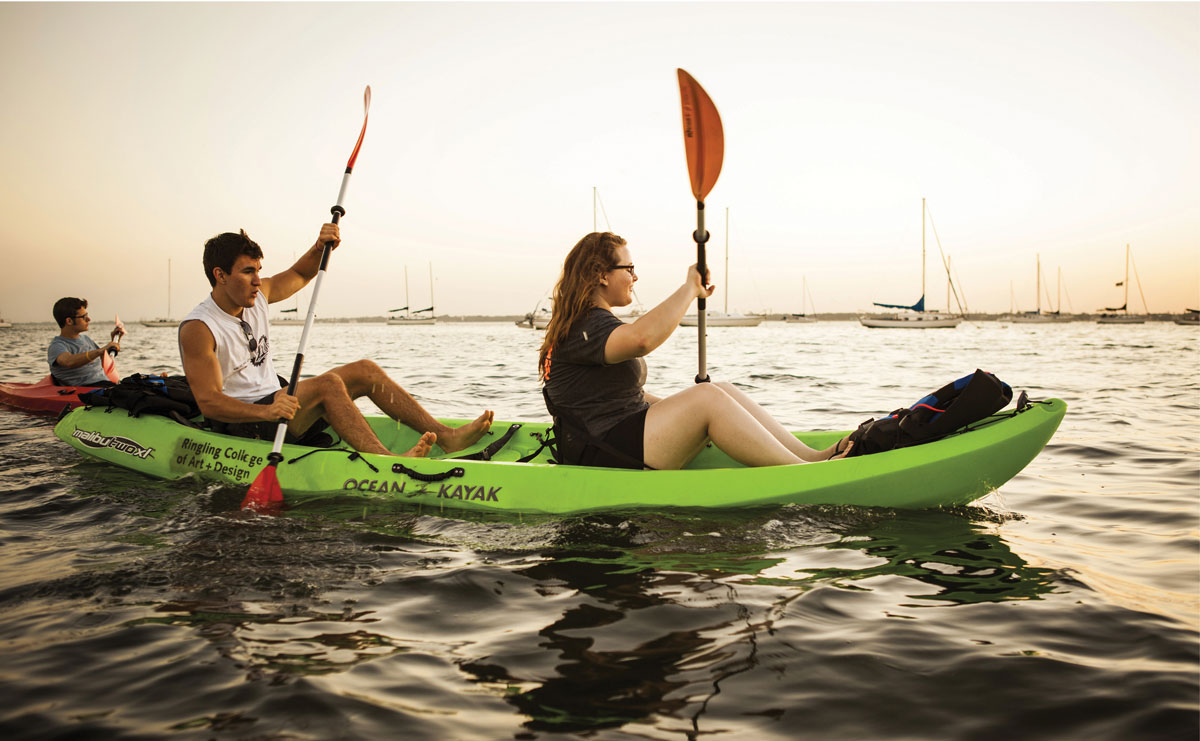 Student Activities and Leadership
Ringling College students are active, interested, and involved! Learn more about our student-led clubs and leadership opportunities.
We know that happy artists and designers lead lives that are balanced and well-rounded, so we invite our students to take advantage of our various health and wellness programs available. 
Susan Palmer Fitness Center 
For those who like to get their hearts pumping and bodies moving, our on-campus Susan Palmer Fitness Center offers a number of options. Students can attend one of many Group Fitness classes, receive Personal Training, or put on their headphones and work out solo with our countless cardio and weight machines, free weights, medicine balls, resistance bands, and more. And to meet your crazy schedules, we keep the doors open late. We also encourage Ringling students to get involved with clubs, organizations, local trips and outings, and our Mindful Campus program. We have many club sports such as soccer, basketball, and even rowing! In recent years, trips have ranged from baseball games to Myakka River State Park, to American Ninja Warrior courses, and more.
More details can be found at health.ringling.edu.
Want to meet students with similar interests? Whether that is Harry Potter, gardening, knitting, or typography, we probably have a club for it. 


Join a club
We have a club for almost everything. So jump right in—or even start your own!
Anime Club

American Society of Interior Designers

ART Network

Armadillo Football

Basketball Bonsai Tree Club

Creative Suite Club

Digital Painting Sketch Club

Figure Enhancement with Students Club

Fellowship of Christian Art Students Club

Game Design Club

Gaming Club

Gay-Straight Alliance

International Interior Design

Association Club

Illest of Illustration Club

Knitting Club

Ministry of Magic MANA Club

The Mixers

MOSAIC

The Music Minors Club

Resident Student Association

Ringling Improv Group

Ringling Moba League

Ringling Quidditch Team

Soccer Club

Tealings Club

Type Club

Ultimate Frisbee

United States Green Building Council Club



Looking for a chance to lead? Our Office of Student Activities and Leadership Development encourages students to take the reins which is great experience for your future career. Join the Campus Activities Board and help organize campus events. Or, participate in the Student Government Association to help be the voice of your peers. Take advantage of leadership workshops and field trips. Learn how to lead and make the positive changes you want to see around campus.
Join communities that will allow you to explore and embrace your faith. Our Campus Ministry works with students of all religious affiliations to find the support and services they seek. Whether you are looking for a place to meditate, a group of like-minded worshipers, or simply someone to talk to, our Campus Minister is here to help.
We support student-led groups on campus to bring in speakers, hold prayer sessions, and learn more about their faith and that of others around them through interfaith forums. We are a member of the Hillel Chapter of Manatee County. We also support regular Catholic mass on campus as requested by our students. Regardless of your faith, we are here to help you connect with your faith community and offer guidance.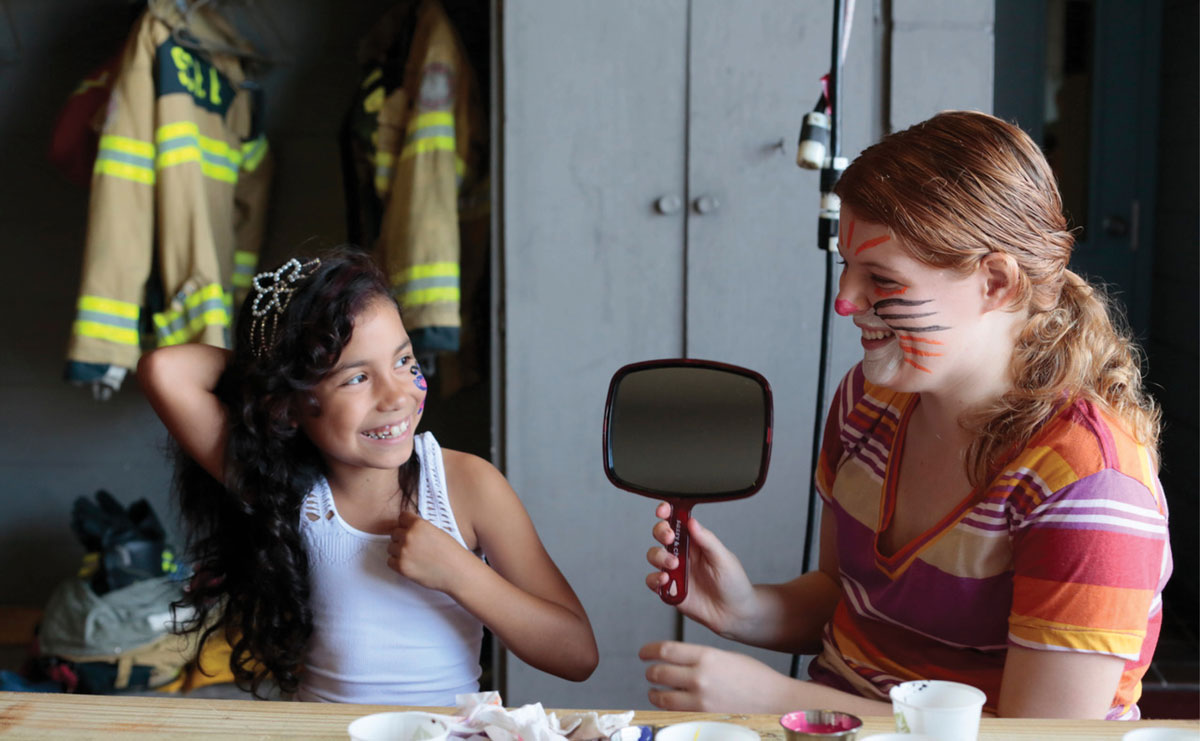 Volunteerism
Get ready to give back! Each year, Ringling College dedicates over 14,000 hours of service to the local community—an in-kind value of over $200,000! Join fellow students planting community gardens, teaching art to local kids, cleaning up the environment, and painting murals.
Student Volunteerism and Service-Learning
The Student Life Office and Student Volunteerism and Service-Learning staff provide community service opportunities for the growth and development of the entire Ringling College community. A great deal of your learning beyond the classroom can take place through volunteerism. Becoming a student volunteer will help you gain professional skills and experience; you will become more socially responsible, gain a sense of belonging, meet other volunteers with similar values and interests, learn leadership skills, embrace diversity, and gain perspective by seeing others with different or more severe challenges than your own. Your worldview will be expanded as you gain insight into the Sarasota community and beyond.
As a Ringling College volunteer, you can share your strengths – artistic or otherwise – and have meaningful community experiences. 
Contact Information
Ulla Searing Student Center
Robert Perkins Student Life Wing 
volunteerism@ringling.edu
RVO, Federal Work Study Program
Ringling College of Art and Design's department of Student Volunteerism and Service-Learning has hired student Federal Work Study employees each year to expand our community outreach to even greater potential. This student group, called RVO (Ringling Volunteerism), is working hard to implement new marketing strategies, increase campus club and organization involvement, and strengthen our existing partnerships with local non-profit organizations. A huge 'thank you' to our hard-working student employees who are a wonderful example of service at Ringling College and to the Sarasota community! 
Student Ambassadors
This group is made up of volunteer students nominated by the heads of the academic departments and staff members of various student/academic support services. The students are chosen because they excel in and out of the classroom and those who nominated them believe they will serve as great representatives of their fellow students and Ringling College. 
YEA! Program
Ringling College of Art and Design recognizes that artists and designers play a significant role in society. The College's primary mission is to provide programs leading to degrees that prepare students to be discerning visual thinkers and ethical practitioners in their chosen area of art and design.
The YEA! (Youth Experiencing Art) Program at Ringling College of Art and Design provides art and arts integration experiences to PreK-12th grade teachers and students. YEA! pairs Ringling College students with classroom teachers and art teachers. These pairs co-develop, co-teach, and co-assess the projects connected to the students' curriculum. By leveraging the learning through long-term residencies, students have multiple arts experiences that are personally meaningful and relevant. 
The Lazarus Foundation Scholarship
The Lazarus Foundation awards scholarships and grants to Ringling students who have demonstrated a commitment to community service. Applicants are asked to describe their past service experiences and to create a future program that will benefit the local community. Students will first receive the grant money to carry out the proposed project. Scholarship money will be awarded pending completion of the project. Applicants must be registered Ringling College students.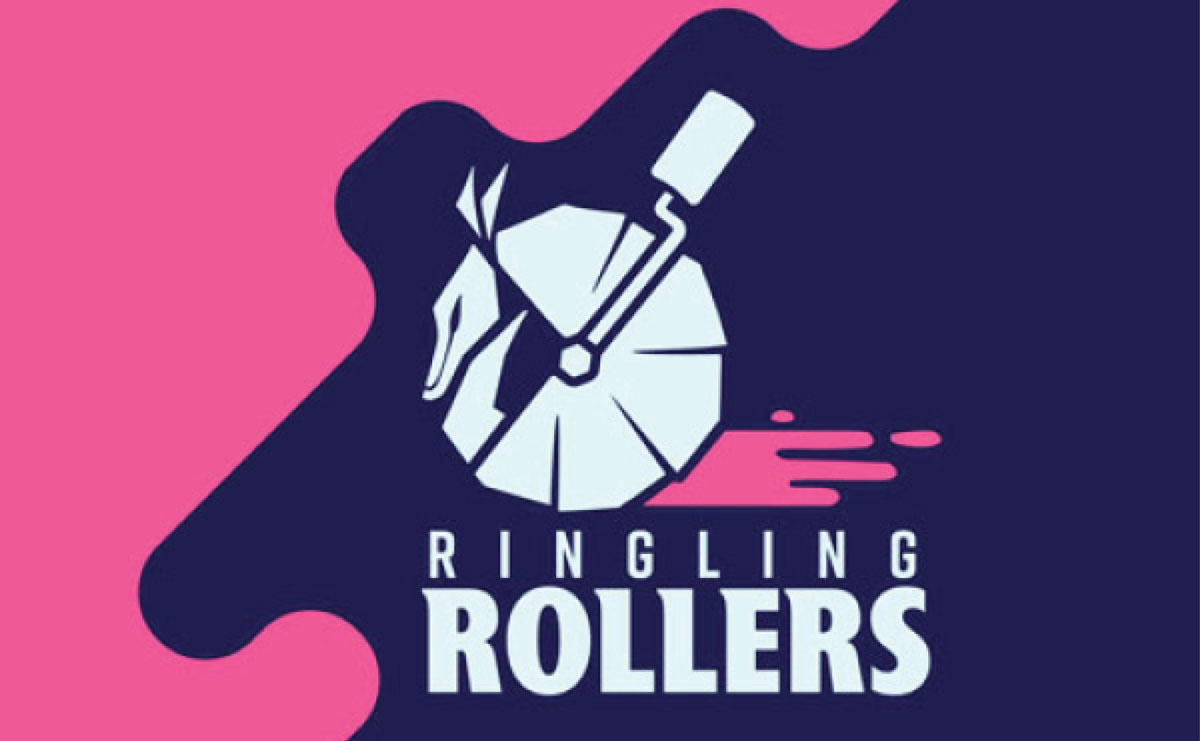 Varsity Esports
Introducing The Ringling Rollers – Ringling College's inaugural Varsity Esports team.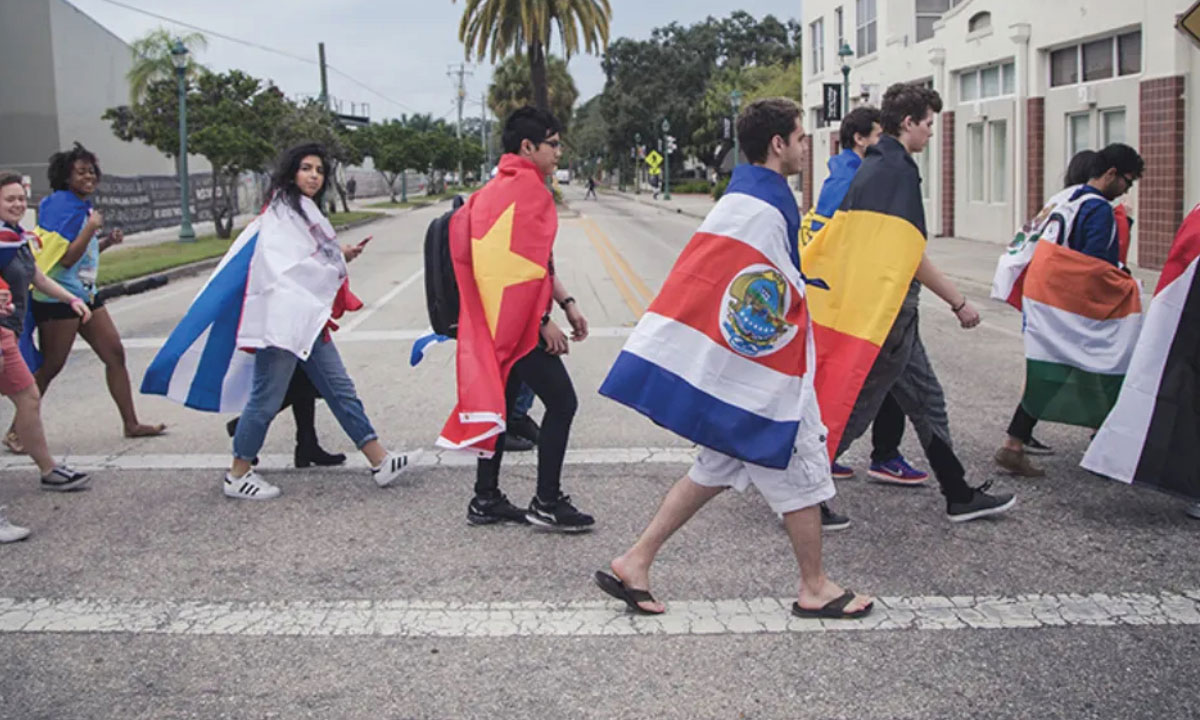 International Campus
There's no such thing as a typical Ringling student. Our student body is composed of emerging artists and designers from all around the world and every corner of the United States. At Ringling, we welcome international dialogue and foster respect and inclusion because inspiration and creativity don't thrive in a vacuum – the best artists and designers inspire and engage with the global community.
International Student Affairs
We welcome art and design students from around the world! To make you feel at home, introduce you to all of our resources, and ease the transition, we offer a wide array of services available on campus.
International Student Affairs
Our International Student Affairs department is centrally located to provide assistance and support for our many students from abroad. Reach out to us for anything you need, whether that be about employment, visas, tax forms, or travel. We will let you know what paperwork you need, what resources are available to you on campus, and what steps you need to take to stay up to date. 
Upon your arrival, you will check in with the Ringling College International Student Advisor to address any questions you may have and make you feel right at home. If you have any questions regarding resources for international students at Ringling College, please contact Amy Pettengill at apetteng@ringling.edu or 941.893.2051.