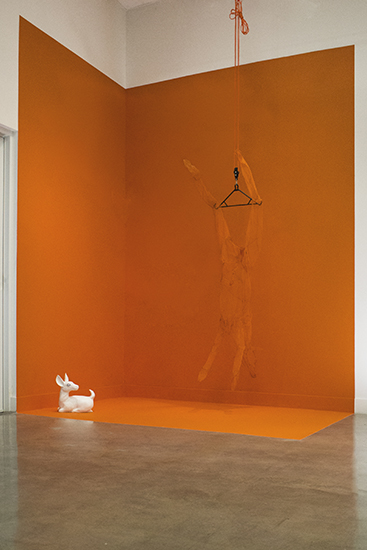 Congratulations to Meagan Hindel (Fine Arts, '19), for winning an Outstanding Student Achievement in Contemporary Sculpture Award presented by the International Sculpture Center. Her work, entitled A Perspective, was selected from 325 nominees coming from 139 schools around the world and featured in Sculpture Magazine.
The Outstanding Student Achievement in Contemporary Sculpture Awards is an annual juried competition for graduate and undergraduate students working in sculpture.
Meagan is quoted in Sculpture Magazine saying:
Using animals as stand-ins, I create objects, installations, and experiences that examine mental states, personal traumas, and the human condition. Birds, bees, and deer combine with domestic items and hunting tools to stage moments of interconnected narrative and metaphor. Plaster, clay, fabric, and aluminum convey various emotional and visual effects while intense colors re-create the visual perception of individual species, immersing viewers in deeper points of connection.

Meagan Hindel
This is the second year in a row a Fine Arts graduate has won this prestigious award; Jordan Holm (Fine Arts '18) was last year's recipient.
Let's give a huge round of applause for Meagan, and for the entire Fine Arts faculty! You can view her work, along with the other winning pieces, here.