Jamie DeRuyter is a 3D artist, animator, and faculty member at Ringling College of Art & Design
Entertainment design is a fast-evolving field that continues to grow at a rapid pace. From theme parks and interactive storytelling to immersive art installations, themed retail and hospitality, it's a multi-billion dollar a year industry that demands multifaceted professionals. Designers in the field are masters of storytelling who turn imagined worlds into reality through conceptual, narrative, technical, and collaborative skills.
Ringling College of Art & Design has developed top talent that the big themed entertainment players have voraciously scooped up for years. With curricula rooted in art and design foundations, a myriad of creative degree offerings, close industry connections, and proximity to the themed entertainment hub of Orlando, it's little wonder why. Ringling's newest degree hones in on the exciting field of themed entertainment by amalgamating its many disciplines into one. The result is Ringling's new Entertainment Design BFA which just wrapped up its inaugural year.
Animator and 3D artist Jamie DeRuyter has worked on numerous theme park, game and TV projects over the years. As a faculty member at Ringling, DeRuyter was pegged to help develop the new Entertainment Design degree program and serve as its first faculty member. For our latest Q&A, we catch up with DeRuyter to get a glimpse inside Ringling's newest degree offering and see where it's heading in the near future.
ACR: Jamie, let's start at the top. What was the genesis of Ringling's new Entertainment Design BFA?
Jamie DeRuyter: The Entertainment Design program began as a way to expand the offerings of the Interior Design Department with a proposed focus on themed environments. After much discussion and collaboration, it was decided that Entertainment Design would be the larger umbrella major and Themed Environments would be an emphasis inside of that major. We recognize that in this industry, story and guest experience come first- environments are just one component. This structure allows us to have other emphases in the future.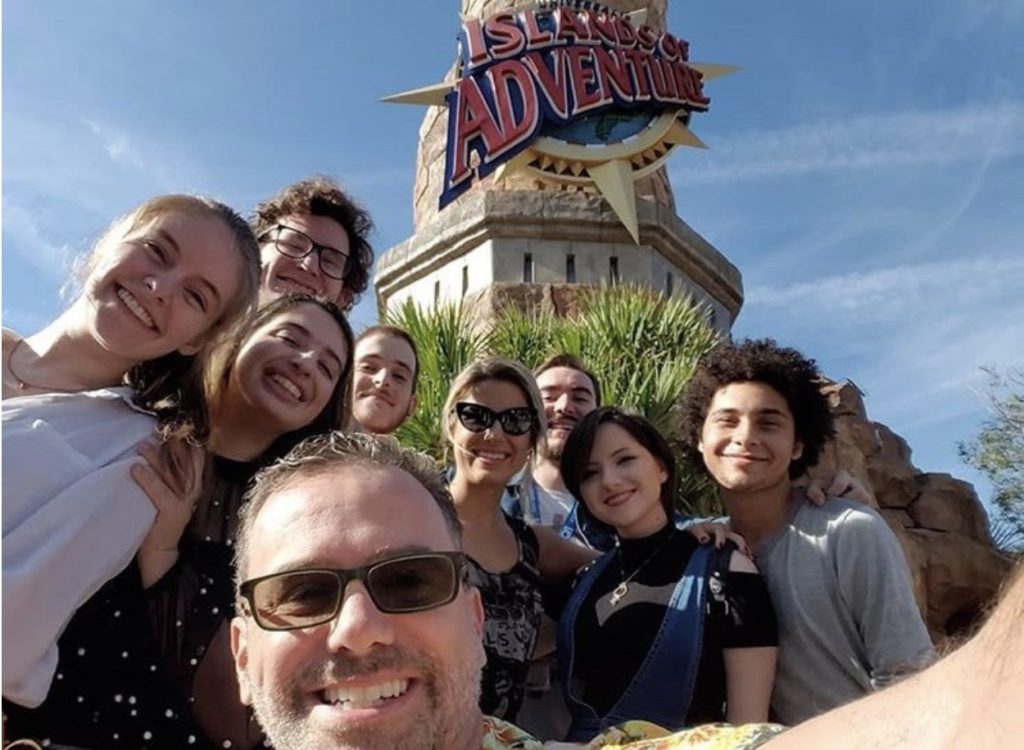 ACR: As an animator and 3D artist who has worked extensively in themed entertainment yourself, what excited you most about helping to develop the new major?
JD: We are now directly addressing and preparing students for this specific industry. For a long time, companies like Disney, Universal, ITEC, Falcons Creative and others have been coming to campus and recruiting from various majors looking for individual skill sets. Students in animation or illustration would simply 'end up' in the themed entertainment industry. That's how I got my start. I studied animation and then later learned that I could apply my animation skills to themed entertainment.
Being quite different from the feature film industry that I thought I was headed for, I had to learn on-the-job about project structures, schedules, budgets, and the collaborations that take place amongst many, many different disciplines. This new major allows us to completely prepare a graduate for the industry that they want to work in. Now students can choose to enter the industry from the beginning and be more well-rounded and fully prepared.
ACR: Industry players have long looked to Ringling to source young talent. How are their needs and insight reflected in the new BFA?
JD: We've consulted with many companies, large and small, when putting together this curriculum and they are all very excited about what we're doing. With our first emphasis focused on Themed Environments, the industry is really excited to see a unique collection of skills in one designer. This next generation of designers will be well-versed in history, architecture, concept art, story, guest experience, and best practices in the industry. They will be able to think big and dream scenes, spaces, and sets that we've never seen before with the ability to drill down into the details and design things that can actually be built.
ACR: Theme parks is often what people think of when they hear the words 'themed entertainment', but you prepare graduates for work in diverse industries…
JD: Theme parks are the obvious application for these skills and certainly that's what appeals to most of our incoming students. What's really interesting is once we get them in the room and introduce them to other applications for their skills such as museums, concerts, cultural destinations, healthcare, sporting events and venues, retail, and many more…they light up and realize that they love all of those experiences, too! The Themed Environment emphasis will prepare students to create scenes, sets, props, and spaces for any of these locations or experiences.
ACR: Give us a look at some of the courses included in the curriculum and the role they play in developing future entertainment designers.
JD: The curriculum is a great blend of concept, technical skills, history, and Liberal Arts. All Entertainment Design students regardless of emphasis will learn about the basic elements and principles of design, materials and processes, design thinking, immersive media, and project management. Our Liberal Arts and history curriculum is very robust. Students will study the history of immersive media and entertainment experiences. They will study the history of architecture. They will have a fair amount of writing so they understand how to craft a story and what makes for a really captivating guest experience. Students in the Themed Environments emphasis will learn about spatial environments, wayfinding, and visualization & communication.
ACR: Given the scope of the field, does the curriculum 'cross-pollinate' and collaborate with other programs of study at Ringling?
JD: Collaboration is one of our main student learning outcomes. We see several spots throughout the curriculum where this new major will be adjacent to some of our existing majors and certainly students will have the opportunity to collaborate with those majors.
Collaboration will be baked into the curriculum as much as possible. We've had lots of great conversations with leaders in other majors about these opportunities. The College also has an office devoted to collaboration: it's called The Collaboratory. Entertainment Design students have already participated in a real-world project designing an interactive experience for South by Southwest. Students from many majors worked on this project together and we're excited to see how this will play out more in the future.
ACR: Jamie, what are the technical skills necessary of today's entertainment designers, and which hardware and software will students master throughout their time at Ringling?
JD: We see 3D modeling as the pencil of the future. Our students will simply think in 3D. We have 3D modeling built into the curriculum at every level. When you think about the tools an architecture or interior design studio uses, that's basically what we're going to do plus a splash of the visually appealing imagery you'd see in movies and games. Students will learn SketchUp, Revit, CAD, Maya, ZBrush and how to visualize and communicate their design ideas using real-time tools like Unreal Engine and virtual reality.
ACR: With technological and market changes, how do you prepare students for the many changes they will see in the next decades and throughout their careers?
JD: The next few decades are quite a long ways out! Who knows where technology will lead us even just five years from now. Real-time Technology and XR are certainly progressing quickly. What we see in the industry right now is a slow adoption rate of these new technologies. Many studios are still just trying to figure out how to use these new tools. Our students will pick up these tools and use them as if they were a pencil. They will be problem solvers and visionaries. No matter what happens out there on the horizon, the students will be prepared to adapt and change.
ACR: We'd be hard pressed to think of a better place to study entertainment design than in Florida; and Orlando is only a short drive from Ringling's campus. Tell us how Ringling leverages its location to students' advantage.
JD: We are very fortunate to be located so close to Orlando. I've enjoyed a long career in themed entertainment by being adjacent to the epicenter of this industry. We've already been to Orlando on field trips to several really great companies like Nassal, Bungalow, and ITEC. Speaking earlier of collaboration, all the design-centric majors on campus spent a full day at Universal with a narrated tour and behind-the-scenes access. Industry loves to visit us as well. It's easy for industry collaborators and partners to drive down and spend the day on campus. 
ACR: I am sure many readers will be curious about the Entertainment Design BFA now, Jamie. What do you look for in applicants to the program?
JD: Applicants to the College must submit a portfolio online. We typically look for about 10 examples of your best work. For Entertainment Design and specifically for the Themed Environment emphasis, we're looking for examples of perspective drawing, drawings of spaces and objects, any kind of real-world model building or sculpture, and generally any type of creativity that shows that you're interested in creating entertainment experiences for live audiences. If your high school has a theater, get in there and design the sets.
ACR: Last but not least, what are you most looking forward to as the Entertainment Design program plays out over time?
JD: I'm very excited to see what other emphases we can add into the curriculum. When you look at all of the different types of job roles in the industry you can imagine almost any of them becoming an emphasis of study. For example, costume, lighting, media production, and fabrication. Along with a diverse set of offerings comes a great mix of people. Already students take basic drawing and design classes with faculty from Illustration, Graphic Design, Computer Animation, and Game Art. They'll learn the environment outcomes from architects and interior designers. As we expand the number of emphases in the major, I look forward to bringing in even more amazing artists and designers.
Check out more interviews at Animation Career Review's Interview Series.
Written by Bonnie Boglioli, Animation Career Review