Design your future in this BFA program.
Graphic Design is a diverse, dynamic, and flexible field, and Ringling's Graphic Design program gives you a deep understanding of the design thinking process and how to apply it to a broad spectrum of 2D, 3D, and screen-based media.
Learn strategies for creating concepts and designing interfaces that entice, inform, and surprise the user. Submit your work to the ADDY Awards or intern at the Ringling College Design Center. Our graduates work as graphic and product designers, creative and art directors, visual and interactive designers, or
freelance and hand-pick their projects.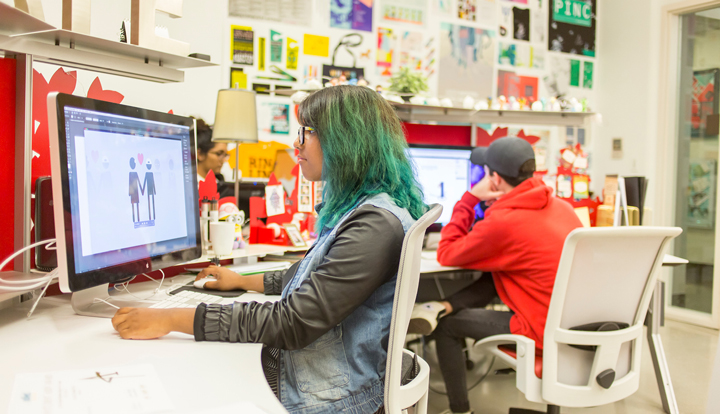 Hannah Crews '22
Hollister | Graphic Apparel Designer
Adam Myerscough '22
Mission | Designer
Sean Clancy '22
Saatchi & Saatchi | Junior Art Director
Allyssa Ellis '21
Leo Burnett | Junior Art Director
Beatriz Patarata '21
Earthrise Studio | Graphic Designer
Konrad Losiak '21
Hanson Dodge | Designer
Caio Arias '21
Significa | Interface Designer
Kelly Campbell '20
Studio BCC | Art Director
Martin Pohlmann '20
AKQA | Senior Designer
Leslie Carrol '19
VSA Partners | Designer
Kelsy Vines '19
Nickelodeon | Graphic Designer
Tyler Brown '18
Landor & FITCH | Senior Designer
Deandra Martis '18
Leo Burnett MEA | Multimedia Designer
Silpa Joe '18
Soulsight | Designer David
Allin Reese '17
Google Material | Designer
Laszlo Bogdan '17
Leo Burnett | Art Director
Olivia Strohm '17
Self Employed | Designer & Illustrator
Flavio Vincenti '16
DAZN | Director of Product Design
Matthew Bongiolatti '16
Spark | Designer
Anna Babayeva '15
Coinbase | Staff Product Designer
Amalia Fredericksen '15
Instagram | Senior Product Designer
Russell Mank '15
 Arc Worldwide | Senior Art Director
Mindy Nguyen '15
ilovecreatives studio | Creative Director
Nancy Nystrom '15 
Barbarian | Associate Creative Director
Jamie Sharpsteen '15
Instagram | Senior Product Designer
Where Have Our Alumni Worked?
Opportunities for students
Resources for Graphic Design Students
Start your graphic design
career at Ringling College.