On Sunday, Jan. 22, Ringling College of Art and Design hosted National Portfolio Day (NPD). Close to 200 prospective college students and representatives from 38 fully accredited art schools from across the country attended the event.
National Portfolio Day events are scheduled throughout the fall semester and into January, and take place throughout the US, Canada, and Europe. Students who attend have the opportunity to visit with admissions representatives, alumni, and faculty and have their portfolios reviewed. Events are generally held in-person on college campuses or other suitable venues, with some taking place online.
Event attendees also had the opportunity to take advantage of additional informational sessions at Ringling College, including a student panel, presentations by Ringling's Center for Career Services and Financial Aid department, and student-led campus tours.
"It is a great privilege to host National Portfolio Day on our campus each year and one of our favorite days at Ringling College," said Dr. Jason Good, vice president for Enrollment Management and Marketing. "Students have the opportunity to have their work reviewed by faculty and admissions representatives from the top art and design schools in the country. For many students it is their first time sharing some of their work and receiving a true critique, so there is a nervous excitement in the air, with the goal of preparing these talented students to put their best foot forward during the college admissions process."
Many students and their families arrived early ensuring a spot in multiple review lines. During a typical portfolio review, students presented their work — bringing their physical artwork or showcasing digitally — and asked for constructive feedback. Experts in their fields, the schools' representatives offered constructive feedback relevant to the medium and gave tips on how to improve individual pieces or their overall body of work for admission. Students also had the opportunity to ask questions about what a particular school is looking for in an admissions portfolio and whether or not the requirements are major-specific.
During a typical four-hour NPD event, school representatives usually review between 30-50 portfolios.
The schools in attendance providing portfolio reviews were:
Art Academy of Cincinnati
California College of the Arts
College for Creative Studies
Columbus College of Art and Design
Cornish College of the Arts
Emily Carr University of Art and Design
Fashion Institute of Technology
Fashion Institute of Design and Merchandising
Iowa State University College of Design
Kansas City Art Institute
Laguna College of Art and Design
Lesley University Undergraduate Admissions
Maine College of Art and Design
Massachusetts College of Art and Design
Maryland Institute College of Art
Milwaukee Institute of Art and Design
Minneapolis College of Art and Design
Montserrat College of Art
Moore College of Art and Design
New World School of the Arts
New York School of Interior Design
New Jersey Institute of Technology
Otis College of Art and Design
Pacific Northwest College of Art
Paris College of Art
Rhode Island School of Design
Ringling College of Art and Design
Rocky Mountain College of Art and Design
School of the Art Institute of Chicago
School of the Museum of Fine Arts at Tufts University
School of Visual Arts
Suffolk University
SUNY Purchase College School of Art and Design
The Cooper Union
Tyler School of Art and Architecture
The University of the Arts
Virginia Commonwealth University
Washington University in St. Louis
Photo gallery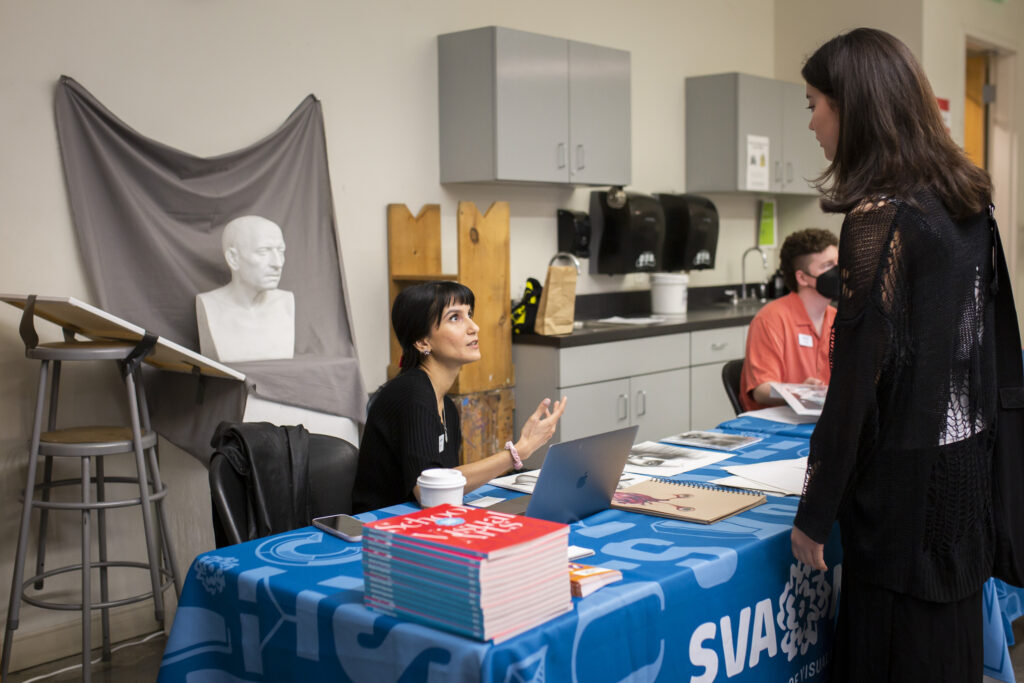 The National Portfolio Day Association (NPDA) was created in 1978 solely for the organization and planning of National Portfolio Days. The Association consists of representatives that hold regional accreditation and accreditation from the National Association of Schools of Art and Design (NASAD), or Substantial Equivalency status. NPDA is the only organization of its kind and the membership represents the highest standard of visual arts education available in the world."
The National Portfolio Day schedule kicks off with events in September and runs through January. Visit the National Portfolio Day website for more information and a proposed schedule of events and locations for 2023-24.