As part of its institutional mission and vision, Ringling College of Art and Design is committed to working towards a greener future, in part through their energy and sustainability program led by Ian Shannon, and student organizations. The Green Ambassadors, a student club focused on sustainability efforts on campus, planned a month of earth-friendly activities for Earth Month, in addition to their yearly commitment to sustainable causes.
To celebrate the international holiday Earth Month, the student club organized a calendar of events, both on and off campus, collaborating with student organizations and local community nonprofits to educate and engage students on sustainability.
The Green Ambassadors Earth Month programming mission statement is to, "rethink and reframe interactions with the planet, as creatives." The events are designed to instruct students on how to incorporate more eco-friendly practices into their art and lifestyles.
The curated series of events this month included gardening and sign painting at the Orange Blossom Community Garden, and a film screening of a documentary about a professor's creative solutions to address an ecological crisis. Collaborating with other student clubs, the Green Ambassadors painted local flora at Selby Gardens Botanical Garden with Ringling's Plein Air Club, and took a Risograph workshop with the College's Makers Club, making eco-friendly soy ink and rice paper prints.
The final activity is an upcoming field trip to Mote Marine to learn about the local marine ecosystem on Saturday, April 22, 2023. The group will leave from the bridge at 9:30 am.
Sandra Lee '24, Graphic Design, who is the head of the Green Ambassadors student club and Student Sustainability Committee has been working with the College's Energy and Sustainability Manager Ian Shannon on a project mapping the recycling bin locations and starting a flyer campaign to raise awareness among the student body about the recycling program. Shannon and the Office of Energy and Sustainability are also overhauling the network of collection bins around campus and adding several locations to increase ease of recycling.
In addition to the recycling program, the College has several other projects in the works,
including adding EV charging stations around campus, installing a solar array on top of Cunniffe Commons, and a project to expand the ice storage at the chilled water plant.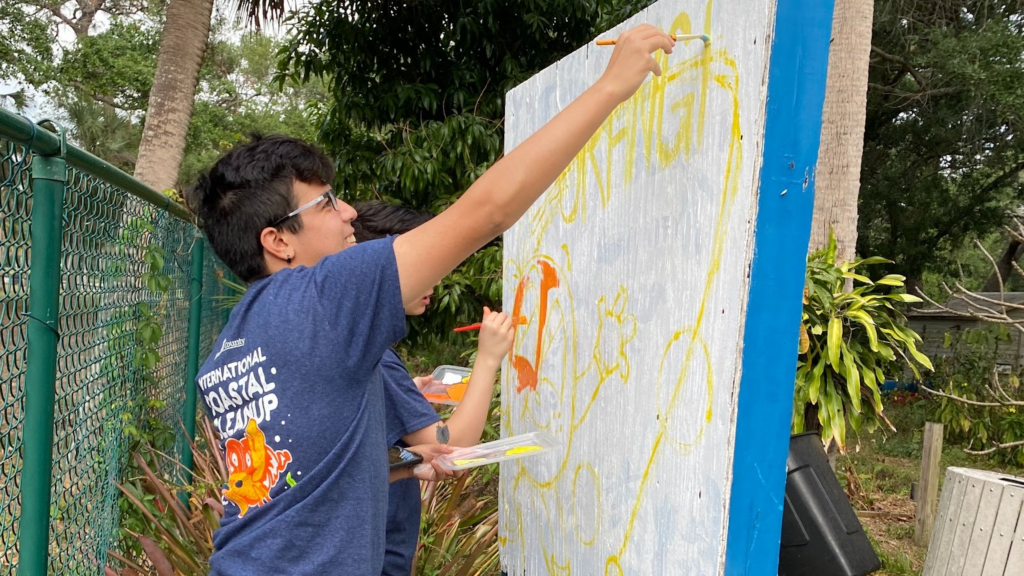 Ringling's new dining service Cunnife Commons has already brought sustainability opportunities to the campus. The facility uses an ORCA machine to transform food waste into an environmentally safe liquid that goes down the drain, lowering the demand for pick-ups and therefore offsetting the carbon emissions of a truck coming for frequent pick-ups, all while reducing landfill contributions. The ORCA can digest up to 100 pounds of waste per hour by aerobic enzymes to create a thermophilic biological environment — essentially, recreating the conditions of a stomach. 
For more information on the event email the Green Ambassadors at rcad.greenambassadors@gmail.com. For more information on the College's sustainable programs and practices visit the website.