Editor's note: This was the lead article for the 2023 issue of CONTXT magazine, republished here for International Museum Day. Read the whole issue online.
Written by Roxanne Joffe, Founder/President of MagnifyGood
Additional Photography by Daniel Perales
Sarasota Art Museum of Ringling College is an oasis of joy and discovery. Three years after officially opening to the public, the Museum has become an essential part of Sarasota's rich cultural fabric.
On a recent visit, I witnessed this vibrant community museum in action. As soon as you step through Willis Smith Way, the energy shifts. The noise of Tamiami Trail's bustling traffic fades away and you're enveloped in a beautiful space. But it's so much more than that. On any given day, you can encounter the laughter and chatter of friends sharing lunch, experience a quiet stillness in galleries filled with light, dig your hands into clay or pick up a brush to paint in a studio classroom. Young and old alike engaging with world-class contemporary art and artists. Students discovering the possibilities in visual arts. Sarasota Art Museum is a place of connection, expansion, and reflection for all in an iconic setting with deep historical roots.
"We're at the heart of Sarasota and we're making art a part of everyday life here," says Virginia Shearer, executive director of Sarasota Art Museum. "We offer so many ways to get engaged, to keep coming back and finding joy and wonder and inspiration."
Experiences that Expand
The Museum is a conduit connecting Ringling College of Art and Design students, alumni, and the Sarasota community to contemporary art from around the world. "We're bringing art from around the globe right here to Sarasota, to the College's student body, and to the faculty so that they can engage with it and better understand what's going on in the contemporary art world," says Shearer. "Sarasota will always have new contemporary art to look forward to and living artists to meet right here in our own community."
With no permanent collection and expansive, cathedral-like spaces to host rotating exhibitions, the Museum provides contemporary artists with unique opportunities to launch new works, collaborate, and engage with audiences.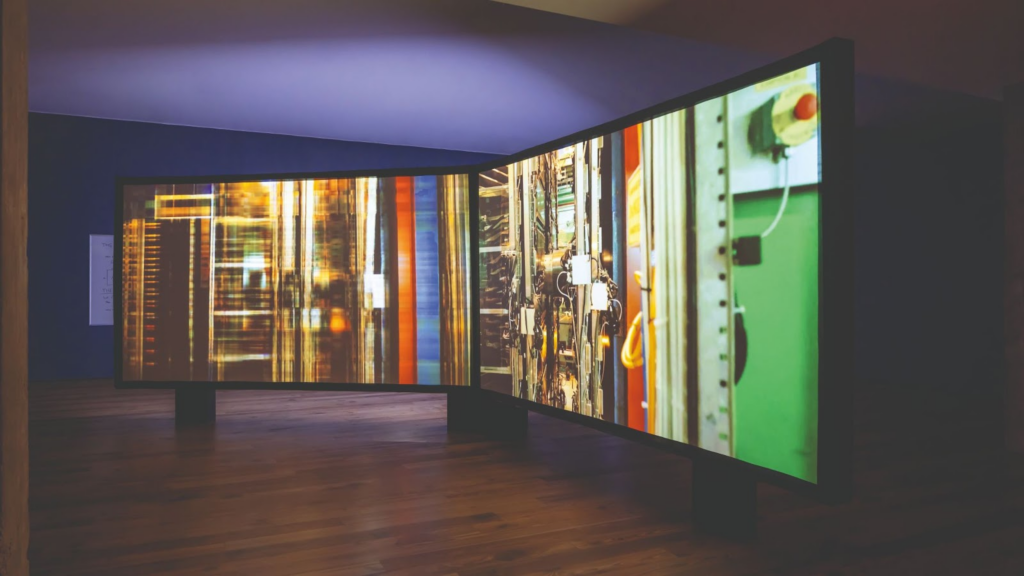 In 2022, Sarasota Art Museum hosted the first U.S. solo museum exhibition of Jamaica-based textile and fiber artist Katrina Coombs. Recently Janet Biggs and peter campus, two artists working in moving images from different generations, came together with curator Terrie Sultan to create Journeys to Places Known and Unknown, the first exhibition at the Museum dedicated to video and digital media.
Steven and William Ladd: Lead With a Laugh featured new, never-before-seen works by contemporary artists and brothers Steven and William Ladd, and a history of Scrollathon, a community engagement program they founded. Scrollathon transforms participants' original works of art into public Collaborative Masterworks.
High fives all around during the Scrollathon collaborative event.
The Ladds kicked off National Scrollathon, an ambitious new endeavor to bring Scrollathon to 33,000 individuals from communities across the country, with the National Scrollathon: Florida at Sarasota Art Museum. More than 20 community partners and 500 community members from across the Sarasota area participated, connecting people together through contemporary art in new and exciting ways. The Sarasota Collaborative Masterwork, titled You and Me, Me and You, All of Us Together, will eventually be part of a national exhibition of works from 50 states, five territories, Washington, D.C., and 10 Native Regional Centers.
I spoke with Steven and William Ladd about their experience working with Sarasota Art Museum. "It is so rare to have this brand new, gorgeous institution in a building that has deep historical roots in the community," said Steven.
"Steven and I had been dreaming for the past three years about what National Scrollathon would look like, and one of the ways was having an exhibition of our own personal artwork and tie that into Scrollathon," said William. "We've never had an exhibition of the history of the Scrollathon, the timeline of that program, and this is the first time as artists that we've been able to go into that archive and pull all of that together."
"That's a testament to Virginia who offered us the platform and space to accomplish that," said Steven. "Virginia is a dream to work with. She's like 'yes, and…'"
"We're not bound by tradition because we are brand new. We get to set the standard for 21st century museums," said Shearer. "We're looking at diversity in many ways — diversity in artists, diversity in their approach to art. We also want to work with artists who are incredibly generous of spirit."
Opportunities that Transform
Sarasota Art Museum offers unparalleled opportunities for Ringling College students and alumni, and students of all ages from the community to explore visual arts. Access and exposure to exceptional contemporary art by accomplished and emerging artists from across the country and around the world enriches the educational experience offered by Ringling College.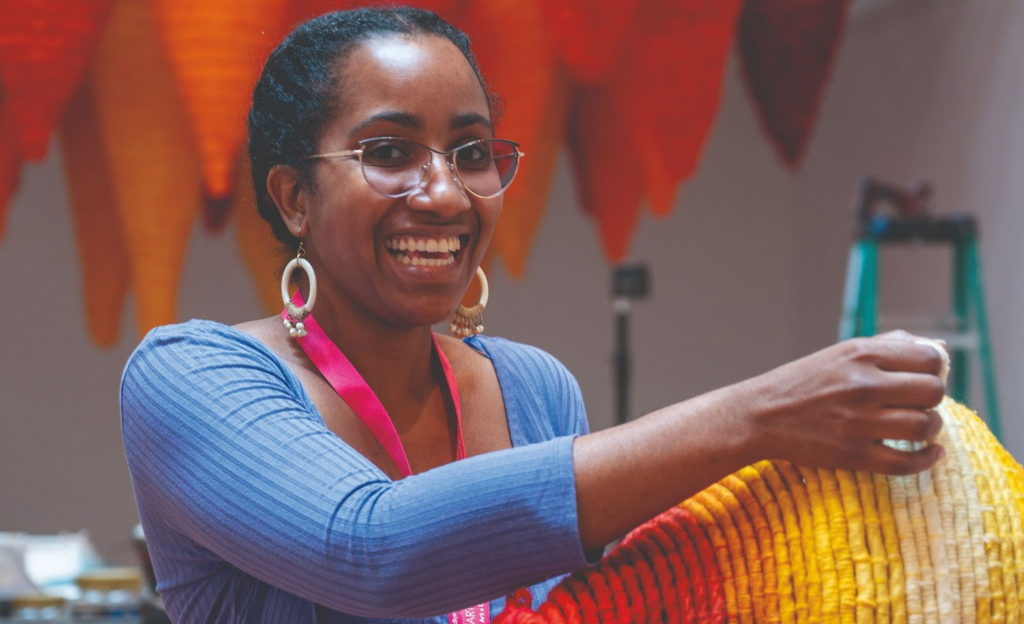 Ringling College Visual Studies student, Hannah Bowe '23, and recent Fine Arts graduate, Lauren Lesley '22, talk about the impact of the Museum and their experiences working there. "When Katrina Coombs' exhibition I M(O)ther: Threads of the Maternal Figure was on view, I was telling everyone in my History of Garments and Textiles class 'you need to come see this work, it's exactly what we're talking about in class,'" said Bowe. "It's not just historical; these are artists who are active today. You experience in real-time what you're learning."
For the next generation of artists, art educators, and arts advocates, the Museum showcases the variety of career possibilities in visual arts. Experiential learning opportunities bring those possibilities to life. "We're committed to creating meaningful, relevant, and equitable arts experiences for all students," says Shearer. In summer 2022, Sarasota Art Museum hosted its first Diversity in Arts Leadership (DIAL) intern. This national and competitive paid internship program, administered by Americans for the Arts and supported locally by the Community Foundation of Sarasota County, provides undergraduate students from diverse backgrounds who have a career interest in arts and cultural equity, a hands-on introduction to working in the arts sector. The SAM Teen Arts Council also launched in 2022 at the Museum, offering a paid year-long internship for local high school juniors and seniors. Made possible by generous support from the Kutya Major Foundation, the internship focuses on contemporary art, museum management, arts program development, and community engagement.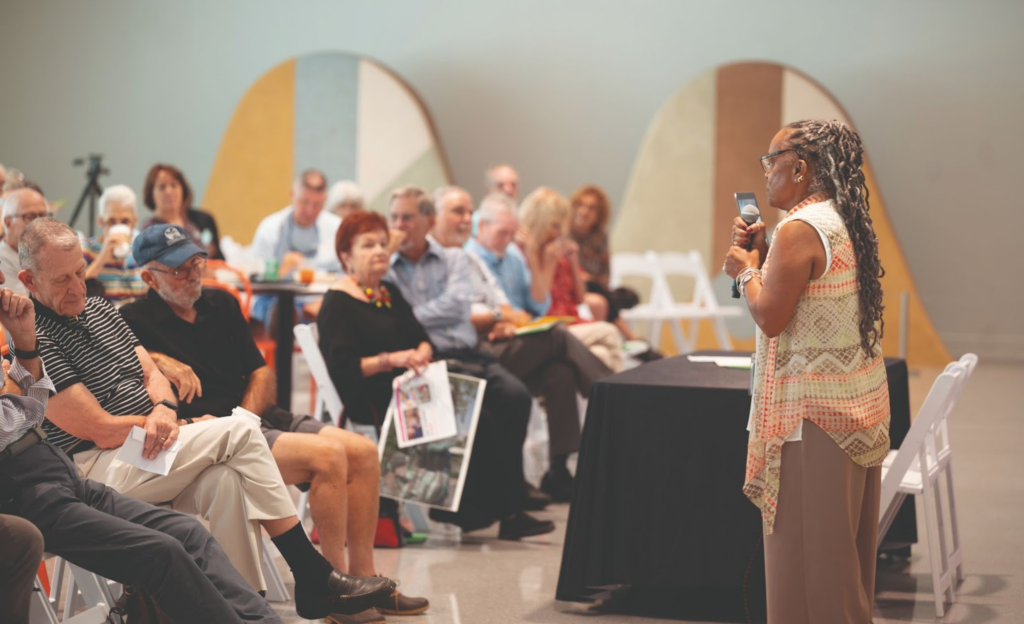 Studio arts classrooms and drop-in artmaking opportunities like Saturday Studios and Your Wednesday Playdate open up the world of visual arts to students of all ages. Sarasota Art Museum is home to a robust portfolio of education programs, including the Studios @ SAM, a vibrant studio arts program, and the Osher Lifelong Learning Institute (OLLI) at Ringling College, which offers a variety of courses and events for adult learners.
There is deep value in the connections and dialogue made possible by the Museum. "I think one of the best things about being at the Museum, whether you're on the visitor or employee side, is interacting with so many different kinds of people of different ages and interests," said Lesley. "We're all connected because we're interested in the same things; we're there because we like art. So you get to have these amazing conversations and come together in community."
The opportunities to connect, not just with contemporary artists and their work, but also audiences from around the world has a tremendous impact on students working at the Museum. "When Daniel Lind-Ramos' work was here, I was spending all day with these assemblage sculptures created from the wreckage of Hurricane Maria in Puerto Rico," said Bowe. "I had heard of Hurricane Maria, but I didn't know anything about it. And then these three women came in — it was a mother, grandmother, and a daughter. Three generations taught me and shared with me their personal experiences in the hurricane."
Bowe added, "Being a part of this Museum has helped me realize my intention is to create art that functions to entertain, inspire, connect, raise awareness, and promote equality."
Connecting to Community
At the core of every museum is a mission to be in "service of society," "accessible and inclusive," and "foster diversity and sustainability," according to the definition of a museum from the International Council of Museums. A deep commitment to the educational legacy of Ringling College is woven into the fabric of Sarasota Art Museum. Working together with local nonprofit partners and generously supported by visionary funders like the Charles & Margery Barancik Foundation, the Museum is building bridges into the greater Sarasota area and its communities to make contemporary art accessible to all.
If you visit the Museum on the second Sunday of the month, you'll see this in action. Free Second Sundays @ SAM provides visitors free access to all exhibitions, live music, interactive storytelling and performances, and hands-on studio art activities for all ages that draw inspiration from the current exhibitions. If you haven't been yet, it can't be missed. Bowe and Lesley both remarked on the vibrancy of the Museum on Free Second Sundays. "It is just so ecstatic to see the Museum full and active with all ages, all groups of people," Bowe said. "It's the entire community."
"Through Free Second Sundays, we can reach community members who may have never stepped foot inside this or any museum and expand our role as a vital, necessary, essential community resource," Shearer said.
"We believe that the arts' humanizing influence is essential for our community and Sarasota Art Museum exposes us to a variety of cultural and artistic influences, offering an opportunity to reflect and find a sense of peace and identity," said Teri A Hansen, Barancik Foundation's president and CEO. "Scrollathon is a great example of the kind of program that lets our neighbors not only peruse art, but take part in making it and then watch it travel off to a national audience."
"It was so exciting to welcome the Sarasota community to be a part of this transformative experience that has engaged thousands," said Shearer. "Scrollathon demonstrates how contemporary art can be a lens for personal and collective storytelling."
Sarasota Art Museum may be new, but it is rooted in the deep historical legacy of Sarasota High School and the 1926 three-story Collegiate Gothic Elliot building that is a landmark for generations of Sarasotans. Sarasota's Scrollathon created opportunities for those community members to experience the space in new and transformational ways. "We knew it was a high school that was transformed into this new contemporary art museum," said Steven Ladd. "It wasn't until we were there working with community members who went to high school during pivotal times in our recent history like school integration, who were now having a whole new experience with this historical place in Sarasota that we fully understood the impact."
Groups of individuals from organizations such as CreArte Latino Cultural Center, Alzheimer's Association Florida Gulf Coast Chapter, Neuro Challenge Foundation for Parkinson's, Southside School Foundation for the Arts, and Second Heart Homes came together in uplifting and empowering sessions with Steven and William Ladd to think about what they value in life while creating museum-quality art. The Ladds brought a session to incarcerated individuals in the Sarasota County Correctional Facility. The Sarasota Scrollathon is a catalyst for deeper connections with the community, as will be the lasting legacy of Sarasota Art Museum.