Aug. 6-10, 2023, SIGGRAPH will hold its 50th conference celebration of the annual event held for computer graphics and interactive techniques, worldwide. This year's conference will be held in Los Angeles, with recent conferences pivoting between LA, Vancouver, and Anaheim. The acronym stands for "Special Interest Group on Computer Graphics and Interactive Techniques" and each year supports a gathering of talented individuals who are passionate about technology and creativity. The conference showcases mind-blowing computer graphics, animations, and the latest and greatest in virtual and augmented reality. Ringling College of Art and Design students, alumni, faculty, and staff have been attending SIGGRAPH for over 30 years.
This year, 10 of Ringling's Virtual Reality Development students had the opportunity to collaborate on an immersive Virtual Lobby experience for the SIGGRAPH Virtual Reality Theater—an experiential learning project and a prime example of Ringling College's signature pedagogical teaching methods. Historically, the VR Theater is known for showcasing the best of the world's auteurs working in a medium without walls or frames. The goal of the VR Theater is to give attendees a fresh perspective on this ever-evolving medium.
Starting in the Spring 2023 semester, the students pitched three virtual lobby themes for the VR Theater experience alongside other project proposals. Their proposed lobby themes were: Synthwave, Celestial, and Futuristic Brutalism. Throughout the summer, five of the original 10 students continued to work on the VR Theater project, iterating based on the Theater committee's feedback and ensuring the final product was performant and optimized for playback on Meta's Oculus Quest 2 VR headsets and ASUS gaming laptops.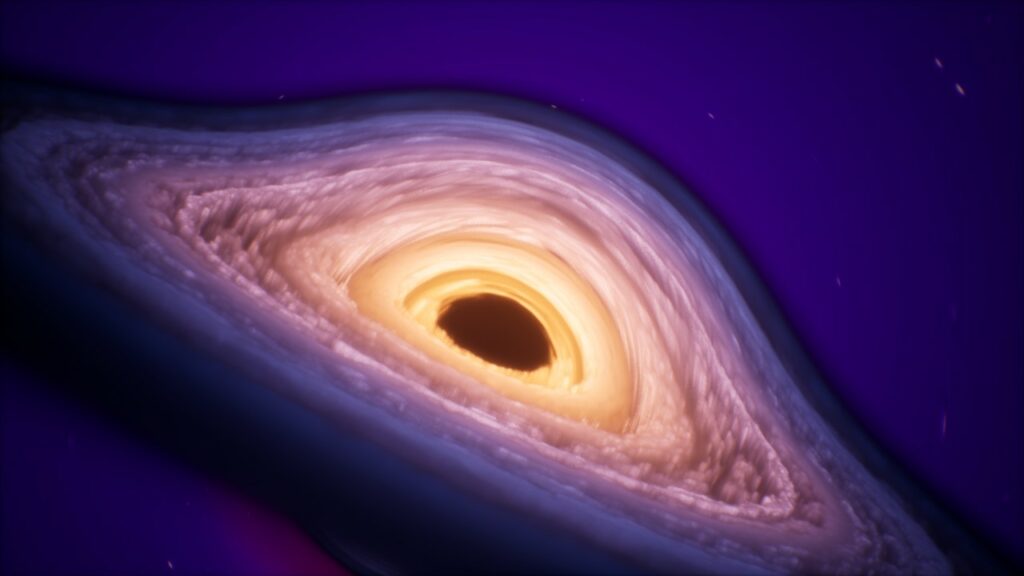 The VR majors working on the project are all rising juniors at Ringling College: Susanna Alan, Sophie Pensula, Devin Royer, Myles Scott, and Vanilope Tang. The final lobby product ended up being a combination of all three initial theme ideas. Close to 1,100 people will experience the exclusive VR Theater Lobby during the conference.
"Working on the Virtual Lobby for SIGGRAPH's Virtual Reality Theater has been a transformative experiential learning project for our second-year VR students, marking a significant milestone in our major's journey since the pandemic," said Martin Murphy, Ringling College's Joel and Gail Morganroth Endowed Department Head for Virtual Reality.
"I am immensely grateful our students have had this unique opportunity. The committee's generosity and patience as clients offered our students a genuine glimpse into the real-world challenges and experiences awaiting them beyond graduation. Witnessing my students' involvement in such a prestigious event like SIGGRAPH fills me with immense pride and excitement. It's an honor to see their passion for technology and creativity align with an event I've admired since attending my first conference in Chicago in 1992."
As a result of their hard work and dedication to the project, the students have been rewarded with the opportunity to participate as specialist immersive environment designers in collaboration with the VR Theater Team official subcommittee members, gaining real-world experience alongside industry professionals at a world-class level. They will be helping to assemble the Theater at the conference and host attendees—an international community of researchers, artists, developers, filmmakers, scientists, and business professionals. As it's the 50th conference celebration, post-pandemic, and in LA, organizers expect this year's conference to see between 18-20,000 visitors.
And that's not all. In addition to the VR Theater, work by Ringling College Computer Animation students will also showcase at the highly-anticipated Electronic Theater. Out of 300 submissions, nine of the 22 selections are student animated films. You can read more about what to expect at SIGGRAPH 2023 in Animation Magazine's recent article.