The 8th Annual Harvey Milk Festival, which opened Thursday night and continues through Saturday, features live music, film, performing and visual artists, speakers, and vendors. The festival's proclaimed mission is to celebrate the life of Harvey Milk, one of the first openly gay Americans to hold public office, by showcasing musicians and artists who support diversity and reject discrimination.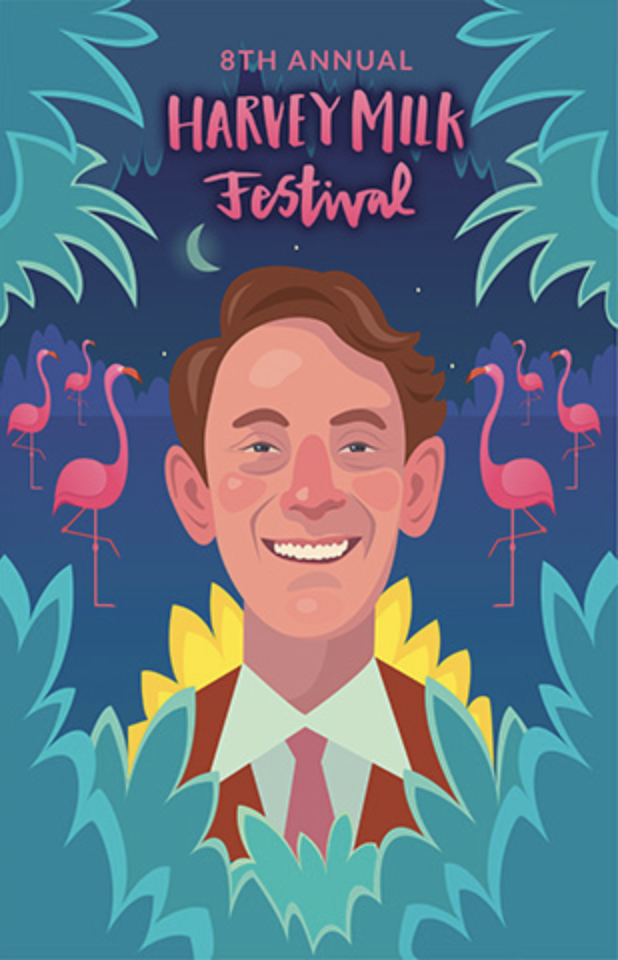 The festival makes a point to support Sarasota's local artists, including Ringling College students and alumni. Every year, they commission a young artist to design the festival's branding. This year, I was honored to create the branding artwork for the festival, which was featured in posters, flyers, t-shirts, and the festival's website. I think the bold colors and tropical theme capture the fun, inclusive spirit of the festival while keeping Harvey Milk in the center of it all. It felt amazing to see my work posted on the walls of businesses around town, encouraging the community to support this event!
Shannon Fortner, the festival's Executive Director and Founder, says, "Working with illustrators every year from Ringling has given the festival some wonderful opportunities with both branding and supporting local artists at the same time. This has been a wonderful experience, and we love to share with the community the talent that is coming out of Ringling College of Art and Design."
Ringling College students and alumni are also featured in art and music performances. Thursday night's opening reception, "Hope Will Never Be Silent," was inspired by one of Milk's famous quotes, and featured artists and activists who support diversity and promote equality through their work. Among these artists are Ringling College alumni Chalice Mitchel, Irene Garibay, and Jessica Pope.
Chalice Mitchel's Gaining Muscle is a performance painting series that documents her personal transition of blurring the lines of femininity and masculinity. Irene Garibay presented her performance art piece, Covered in insides, which aims to provoke the recognition of ourselves in our bodies. Jessica Pope collaborated with other artists in Project 42, interpreting stories of transgender victims of violence through movement and dance.
This festival is so important for Sarasota because it includes and engages our LGBTQA community while supporting the city's local artists and musicians. In addition to hiring young artists and featuring students and alumni in their art exhibitions, the Harvey Milk Festival offers internships and scholarships to young people in the community. It provides Sarasota with an accessible way to make change and promote equality. It is truly a valuable and unique asset to our city.
See Kristen Camisa's portfolio.
This post was written by Kristen Camisa (Illustration, '18), the featured artist at this year's Harvey Milk Festival.