For the second year in a row, a Ringling College of Art and Design student has taken home the prestigious recognition of "Rookie of the Year."
This year, Computer Animation student Jeremy Schaefer came out on top in his category of 3D animation with his senior thesis project, animated short film, The Box Assassin. Watch Trailer
If you don't know much about The Rookies community, they were founded in 2010 as an online platform for non-professional digital artists to share their work and help launch professional careers. As their website states they are, "a platform for artists with a passion for film, games, animation, immersive media, archviz, motion graphics, product design, and other creative industries."
Every year they host the Rookie of the Year competition, an international contest for creative work/projects sponsored by Autodesk. The categories are 3D animation, visual effects, concept art and illustration, game design and development, immersive media, architectural visualization, product design, and 3D motion graphics.
This year, the 10th annual competition saw a total of 3,769 entrants from 524 schools in 88 different countries. These entries consisted of over 58,000 pieces of media uploaded in total — a number which was up by 20,000 pieces of media submitted for the 2019 competition!
Schaefer says his interests in animation started in high school when he started "messing around with cameras and visual effects." He was initially inspired by two popular YouTube channels: Freddiew and Corridor Digital. In 2019 he landed an internship at Walt Disney's Feature Animation Studio.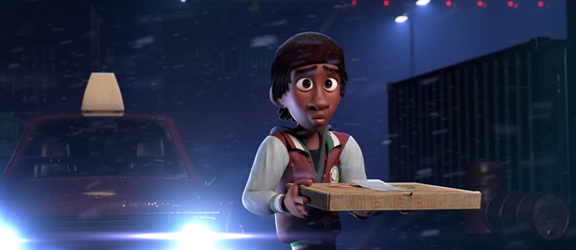 The Box Assassin tells the story of a pizza delivery boy who finds himself in the middle of a clash between a gangster boss and a legendary assassin. The full-length animated film is set for release this August, but a trailer can be viewed on The Rookies website here.
Ringling College also congratulates Computer Animation's Shir Baron. Baron's animated short, The Train to Qinling, was selected by the judges' panel as "Highly Commended."
Learn more about The Rookies and view all of the entries here: Rookie of the Year 2020