Karman (Madison Paige Baranoski) and Tiffany (Jaida Leigh Miller) in Code Red
Updated June 16, 2022: Writer/director Jada Poon '20 and Executive Producer Vivian Owen talk with SNN (Suncoast News Network) in an exclusive interview about their movie, Code Red, and their recent wins.
Code Red is Ringling College of Art and Design's whimsical, coming-of-age short film that confronts the prevalent issue of 'period poverty' – the lack of access to menstrual products many girls and young women face in school that results in educational inequality, lost opportunities, and confidence. Ringling College Film graduate, Jada Wing Hang Poon initially wrote Code Red as a senior and came back to Ringling College post-graduation and post-COVID to produce the film with a team of cast, crew, and financial backers who shared her passion in telling this important story.
Code Red continues to build momentum and awareness of period poverty and recently won 2 more Student GOLD ADDY Awards, plus Student BEST IN SHOW at the AAF District 4 ADDY Awards. Code Red now moves on to the National competition in Nashville, Tennessee on June 3, 2022.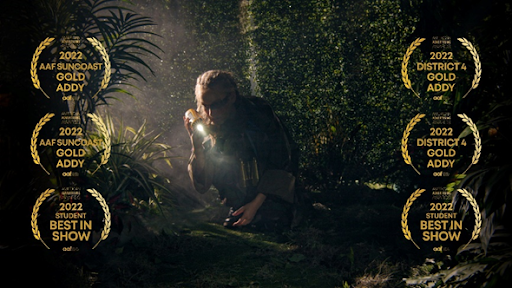 Code Red has been selected to six film festivals, including the:
Venezia Shorts Italy Film Festival
Through Women's Eye's International Film Festival
Concordia Film Festival
Vero Beach Film Festival
Seoul International Children's Film Festival
Sang Gêne Film Festival in Paris (sponsored by Regles Elementaires, the first French association to fight against menstrual poverty and associated taboos).
Following is the public trailer link, and a private screener link is available to qualified media upon request. Film stills, posters, and BTS images are also available to download.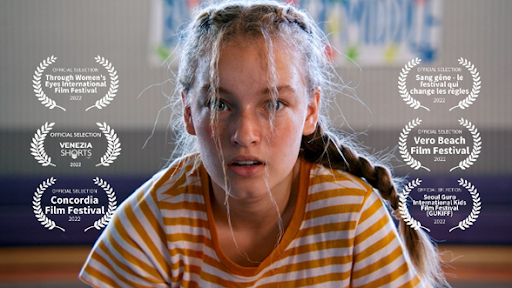 Code Red Film Info, Background, Cast, and Crew
Code Red is a whimsical, coming-of-age short film that confronts the lack of easy access to period products that girls face in school. When sixth grader, Karman, gets her period for the first time at school she skips class with her best friend, Tiffany, to go on a quest in search of a menstrual pad. Throughout the film, Karman's experience is intercut with metaphorical imagery that illustrates the feelings girls experience during that "time of the month." It's a fun and bold way to show the bittersweetness of growing up and bring awareness to the issue of period poverty.
Ringling College of Art and Design Film graduate, Jada Wing Hang Poon initially wrote the short film for her screenwriting class and had no clue it would become the full-fledged professional film it is today. Poon wrote Code Red as a senior as an act of spite while feeling unwell in a predominantly male class due to her own period and began writing about the trials and tribulations of being a woman and experiencing her period.
The idea took hold and Jada began pre-production, but COVID-19 shut it down in March 2020. Poon thought her senior thesis short film about the struggles of being a young woman getting her period for the first time would never come to life after she graduated from Ringling College of Art and Design in 2020 with a BFA in Film.
With the help of a host of generous donors, the Ringling College Film Department, and the Office of Advancement, Jada was able to return to Sarasota, FL from her new home in Toronto in August 2021 to resume production on Code Red.
She hired Ringling College alumni as her crew and auditioned middle school actors from around Florida until she found her perfect cast of seven talented kids. The film was shot in five days under COVID-19 protocols, including regular cast and crew testing and mask-wearing, at Girls, Inc. in Sarasota County and in the Ringling College Studio Labs.
80 percent of the cast and 60 percent of the crew were female, Poon says, a conscious choice, but one that she feels offered great insight to the film. "Ultimately, I want people to be able to casually mention they are on their period, without everyone feeling grossed out or feeling ashamed," says Poon. "Periods are a natural thing and I want to normalize them. I believe this film could help start some conversations toward that change. I wanted to write something fun, something coming-of-age," Poon adds. "I hope that whoever watches Code Red can find something they can relate to."
"Period poverty involves lack of access to feminine products in underprivileged areas of the country and world," Poon said. "There are many public schools where young women do not have access to pads, tampons, and other educational resources that inform and empower them about their own bodies. I wanted to create something that highlights these issues."
Watch the Interview with Writer/Director Jada Poon '20, Film
Code Red also has a Facebook and Instagram page that highlights some of the national organizations Poon and other crew members are getting involved with that support women's rights and help to eliminate period poverty. This ranges from providing pads and tampons in school and community center restrooms to going to Congress and fighting for the elimination of the "pink tax"—that is, taxation of feminine products sold in stores.