37 artworks by Ringling College of Art and Design Illustration students were accepted into the 65th annual Society of Illustrators Competition, including three students winning prestigious scholarship awards.
This year's competition saw 2,308 entries submitted by 55 participating institutions from across the country. Students submitted their strongest, most creative and original artworks under the guidance of their professors including, Illustration Department Head, Scott Gordley '77, and faculty, Gary Barker, Regan Dunnick '76, Jon Foster, David Gardner, Octavio Perez '97, Caleb Prochnow '06, Michael Marsicano '01, Sean Murray, Dominick Saponaro, Ken Spidurso, Joe Thiel, and Rebecca Zomchek.
Ricardo Perez '24 and Samael Hanein-Chagoury '25 both received Nancy Lee Rhodes Scholarship Awards, at $3,000 and $2,500 respectively. Xiaoliang Wang '23 received the Jerry Pinkney Legacy Scholarship totaling $1,000.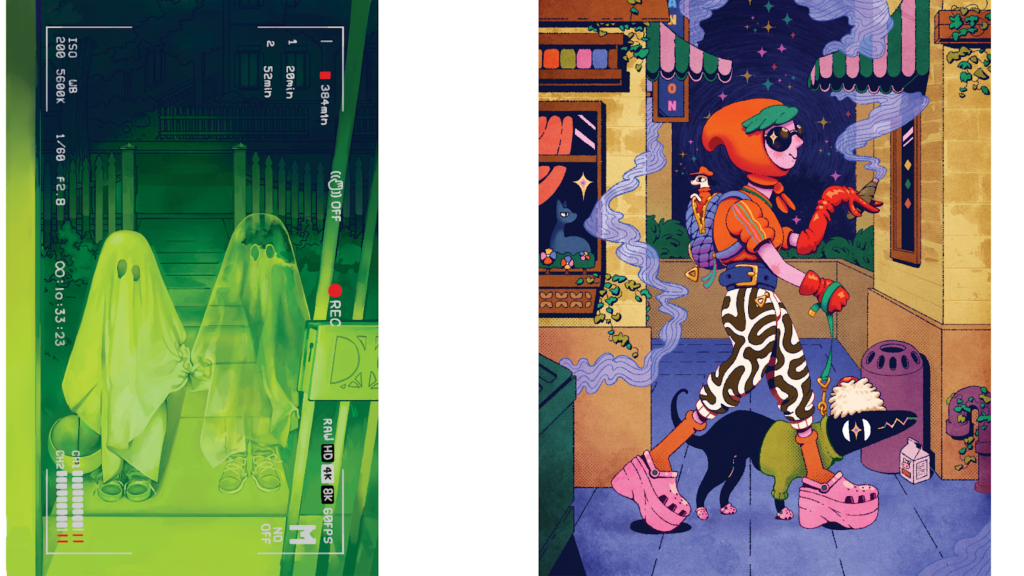 "This is an incredible achievement and the most significant professional competition for Illustrators," said Jeff Schwartz, Ringling's associate vice president for Academic Affairs and dean of Undergraduate Studies. "I am so proud of all the students who participated in the competition, and of the faculty who tirelessly assisted in making the submissions happen. This accomplishment is a testament to all the great work of our faculty in the Illustration department and the commitment to excellence for which Ringling College Illustration is known and recognized around the world."
Each year the Society of Illustrators recognizes top students throughout the world with an exhibition, catalog, reception, and scholarship awards. Students have the opportunity to gain the attention of publishers, designers, art directors, curators, and art buyers. 
The works will be on display at the museum in New York City from May 10-July 8, 2023, and viewable online after the exhibition concludes. 
Competition winners:
Title: Birth Of Venus
Student: Abigail Rajunov
Medium: Digital
Instructor(s): Joe Thiel
Title: Illustration Senior Show Poster
Student: Abigail Rajunov
Medium: Digital
Instructor(s): Joe Thiel
Title: Dragon Life Drawing
Student: Ale Ortega Romero
Medium: Digital
Instructor(s): David Gardner
Title: Mr. Badger's Afternoon Coffee Break
Student: Ale Ortega Romero
Medium: Digital
Instructor(s): Ken Spidurso
Title: Dolly
Student: Aleyah Lyon
Medium: Digital
Instructor(s): Joe Thiel
Title: Family of the Future
Student: Aleyah Lyon
Medium: Digital
Instructor(s): Joe Thiel
Title: Slice of Home
Student: Caterina Ciao
Medium: Digital
Instructor(s): Rebecca Zomchek
Title: That Moment
Student: Elena May binti Saini Jeffery
Medium: Digital
Instructor(s): Joe Thiel
Title: Dream
Student: Iris Xu
Medium: Digital
Instructor(s): Michael Marsicano
Title: The Too Clever Fox Comic
Student: Izzy Robe
Medium: Digital
Instructor(s): Dominick Saponaro
Title: Year of the Rabbit
Student: Jasmine Huang
Medium: Digital
Instructor(s): Michael Marsicano
Title: Into the Weeds
Student: Kaija MacKinnon
Medium: Digital
Instructor(s): Joe Thiel
Title: Statues: Ringling Senior Poster
Student: Kaija MacKinnon
Medium: Digital
Instructor(s): Joe Thiel
Title: The House Ghost
Student: Karina Klimovich
Medium: Digital
Instructor(s): Joe Thiel
Title: Ngurunet
Student: Kiya Wells
Medium: Digital
Instructor(s): Joe Thiel
Title: You're in good hands
Student: Kree Tremble
Medium: Digital
Instructor(s): Joe Thiel
Title: Disease
Student: Kirsten Poliseno
Medium: Digital
Instructor(s): Scott Gordley and Octavio Perez
Title: Playing Pool
Student: Maddy Williams-Solberg
Medium: Digital
Instructor(s): Rebecca Zomchek
Title: Rat Cat Bat!
Student: Maddy Williams-Solberg
Medium: Digital
Instructor(s): Joe Thiel
Title: TEDDY'S ANATOMY
Student: Olivia DeCaigny
Medium: Digital
Instructor(s): Joe Thiel
Title: The Bakery Headquarters
Student: Raphael Jacovsky
Medium: Digital
Instructor(s): Sean Murray
Title: Croc Wearing Crocs being Walked by a Croc Wearer
Student: Ricardo Perez
Medium: Digital
Instructor(s): Joe Thiel
$3000 Nancy Lee Rhodes Roberts Scholarship Award
Title: Trick or Treat
Student: Samael Hanein-Chagoury
Medium: Digital
Instructor(s): Gary Barker
$2500 Nancy Lee Rhodes Roberts Scholarship Award
Title: Dumplings
Student: Sammi Chan
Medium: Digital
Instructor(s): Joe Thiel
Title: Tang Ladies
Student: Sammi Chan
Medium: Digital
Instructor(s): Jon Foster
Title: Just a Slice
Student: Sierra Bosse
Medium: Adobe Photoshop
Instructor(s): Gary Barker
Title: Pumpkin Stew
Student: Sky Chandler
Medium: Digital
Instructor(s): Joe Thiel
Title: Winter Critters
Student: Sky Chandler
Medium: Digital
Instructor(s): Gary Barker
Title: Senior Illustration
Student: Stephanie Bravo
Medium: Digital
Instructor(s): Joe Thiel
Title: The Chef
Student: Stephanie Bravo
Medium: Digital
Instructor(s): Joe Thiel
Title: A Knight's Tale
Student: Susie O'Connor
Medium: Digital
Instructor(s): Joe Thiel
Title: The Ghost of Blackwood Hall 
Student: Susie O'Connor
Medium: Digital
Instructor(s): Joe Thiel
Title: Baddie Blue
Student: Syd Ritsema
Medium: Digital
Instructor(s): Joe Thiel
Title: Equipoise
Student: Vincent Gothe
Medium: Digital
Instructor(s): Octavio Perez
Title: Insatiable
Student: Vincent Gothe
Medium: Digital
Instructor(s): Joe Thiel
Title: Nightingale
Student: Xiaoliang Wang
Medium: Watercolor and Gouache
Instructor(s): Regan Dunnick
$1000 The Jerry Pinkney Legacy Scholarship
Title: Redwood Station
Student: Zaine Lodhi
Medium: Digital
Instructor(s): Sean Murray