Ringling College of Art and Design's class of 2023 graduated May 4, 2023. 377 graduates, faculty, staff, and nearly 1,000 friends and family members came together at the Bradenton Area Convention Center for the College's annual commencement. Degrees were awarded in all of the College's 13 undergraduate disciplines, including Entertainment Design. Established in 2019, the first cohort of Entertainment Design students graduated alongside their peers.
The theme this year was resilience — something this class has certainly exuded during their four years. In President Larry Thompson's opening remarks, he reiterated to the graduates, "You have probably heard me say time and time again about how proud I am to be the President of an institution with such dedicated, hard-working, and resilient students. This graduating class, after all, has endured a worldwide pandemic, online learning, campus shutdowns, and hurricane evacuations. But this class, you students, have continued to prove that you are more than capable of weathering any kind of impossible situation put before you. You are a creative force. And, you are resilient!"
"Your passion brought you to Ringling and your chosen fields," said Mark Woodbury, chairman and CEO of Universal Destinations & Experiences, who gave the keynote address.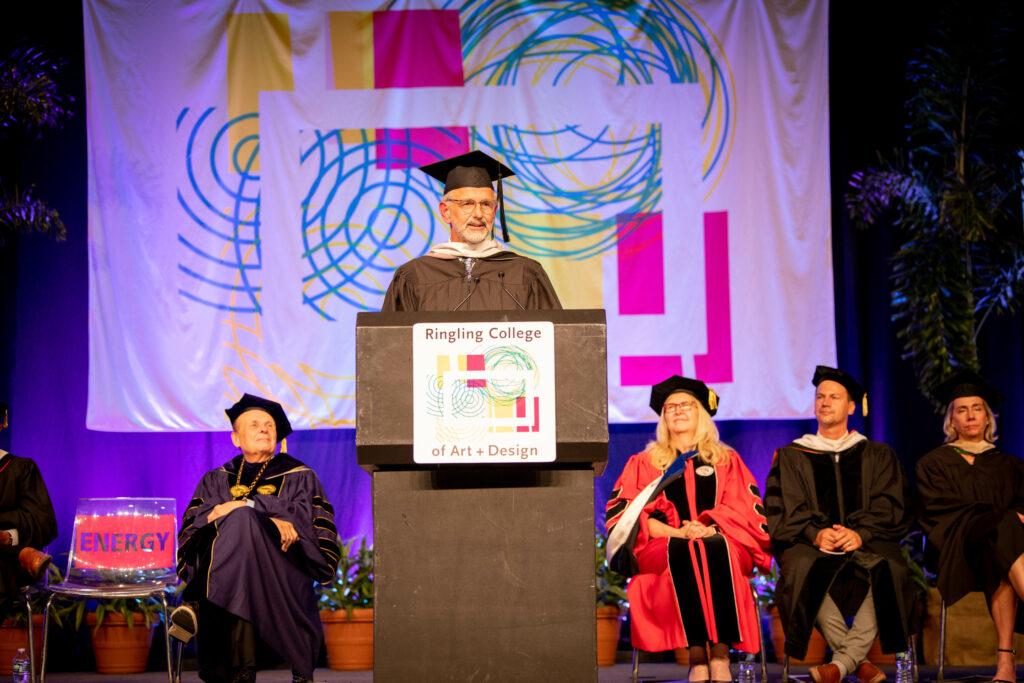 "Your passion brought you to Ringling, and your chosen fields," he said. "Your presence opened your minds to possibilities you never imagined. And your persistence has kept you going, and it got you through to today. Your passion, presence, and persistence carried you to this moment. Along with your creativity, and the love of those around you, these qualities will serve you for the rest of your lives."
Many graduating seniors have already set their future careers in motion, with jobs and internships lined up around the world at companies including Blizzard, Disney, Laika, Playstation, and NBC Sports.
Meet a few members of the Class of 2023: