On Tuesday, March 21, Thomas Carabasi, department head of Photography and Imaging at Ringling College of Art and Design, gave a tour of the posthumous exhibition of photographer Richard Benson, The World is Smarter Than You Are.
The talk was the first of the Art at Noon series at Sarasota Art Museum of Ringling College of Art and Design. Carabasi has been an instructor at Ringling College since 1991. He has been looking at Benson's work since he was in college at Princeton University, where a professor that Carabasi worked with, photographer Emmet Gowin, was a close friend to Benson.
Benson had a reputation as a process photographer. He was hired by institutions like the Museum of Modern Art (MoMA) to reprint posthumous prints by other photographers. He was also a renowned bookmaker for other artists.
"He was fascinated by the older processes," Carabasi explained, "but he was also interested in and embraced new printing technologies. He evolved what he learned in offset printing and applied it to inkjet printing. Benson mechanically altered the inkjet printer so he could register prints for multiple passes."
The exhibition includes one or more examples of the same image printed with offset and then later using an inkjet printer, to see the differences.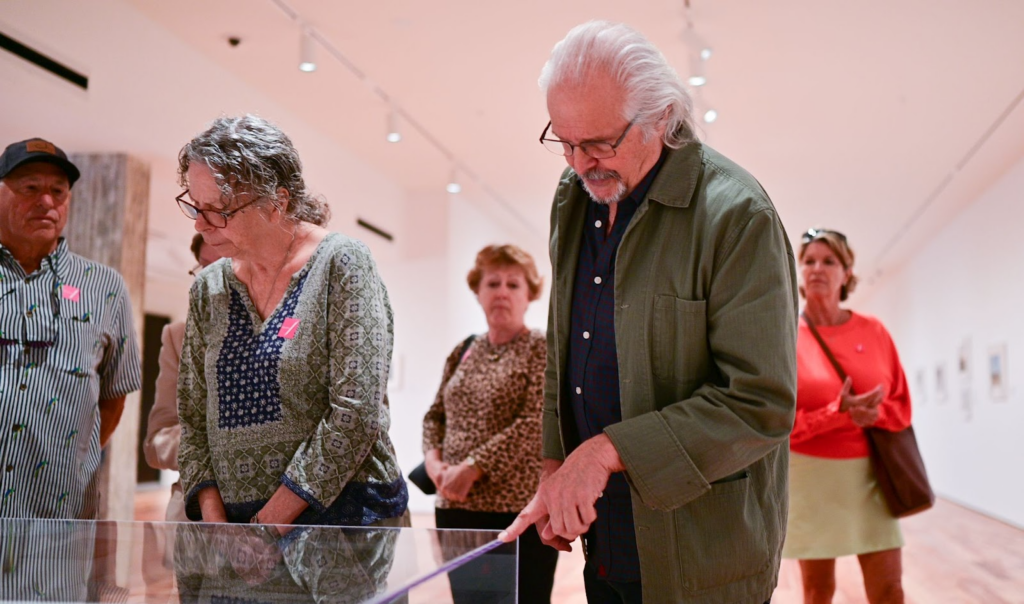 Throughout the tour, Carabasi gave tips for photographers in the room. His talk included props to demonstrate aspects of the printing processes seen in the exhibition, like an offset sheet with multiple images on it and a key to show which inks were used. Bouncing around the galleries, he led visitors to the images that really excited him and shared his reasons why — which were all related to a love of the process that both Benson and Carabasi share. Carabasi offered visitors the multigenerational wisdom of his professors, as contemporaries of Benson, who himself was also an educator. He was a professor at Yale University, and later the dean of their art school.
Carabasi received his Bachelor of Fine Arts degree at Princeton University and his master's at Temple University. The Photography and Imaging program at Ringling College offers students access to state-of-the-art computer workstations and software as well as darkroom facilities, a spacious studio shooting space and a print room with large format digital printers. Students are able to check out a wide range of quality lenses, portable lighting equipment, and accessories as well as high-resolution cameras to evolve their projects. The program also has a unique affiliation with the International Center of Photography in New York City.
Richard Benson: The World is Smarter Than You Are was organized by the Philadelphia Museum of Art. It is on view at Sarasota Art Museum until May 7 — and free to Ringling students, faculty, staff, and museum members. It is also free to the public on the Museum's Free Second Sundays — the second Sunday of every month.
Carabasi is also a jazz musician and has performed at Sarasota Art Museum during their Jazz Thursday events.