What can you do with an art degree?

What can you do with an art degree?
Cassidy Garbutt
Senior Admissions Counselor
The opportunities are endless for students who understand how to apply their creative thinking and visual problem-solving skills to the workplace.
At Ringling College, students are exposed to exciting creative career paths. For example, students with art degrees can work as video game writers, directors of public art, museum curators, healthcare art consultants, marketing specialists, biomedical illustrators, editorial cartoonists, motion capture artists, account executives, filmmakers, art critics, producers, attractions designers, customer experience designers, Zbrush sculptors, 3D modelers, social media managers, animators, character designers, storyboard artists, media directors, set designers, visual effects artists, virtual reality engineers, art historians, product designers, book cover illustrators, technical lighting directors, cinematographers, narrative designers, surface designers, global advertising managers, technical directors, themed entertainment creators, speechwriters, textile painters, art center directors, muralists, games designers, art educators, museum exhibit designers, television effects creators, web graphics designers, pattern creation designers… and of course, contemporary artists.
To learn more about what you can do with an art degree, visit our Career Support website. Our Career Services team at Ringling College is happy to help counsel our students on professional development.
Jamie Deruyter '97
Faculty, Entertainment Design

Almost anything! Art and design are all around us. Everything you see has been designed. 
Jeff Schwartz
Associate Vice President for Academic Affairs and Dean of Undergraduate Studies

An art degree from an institution like Ringling College is highly diverse and can often lead graduates to a variety of career paths. Many skills acquired within our degree programs build many transferable skills beyond the creation of art and design artifacts. Skills like written and verbal communication, collaboration, iteration, critique, problem solving, project management, working with clients, revision, multitasking, time management, as well as striving for excellence. These skills allow graduates the ability to perform well in a variety of work environments and sectors. 
Kathleen Sobr
Department Head, Business of Art and Design

When you consider the size and breadth of creative industries today – from entertainment and digital media to creative goods and products to advertising and marketing – the possibilities are endless. Within each of these industries, there are countless roles and career paths for creative professionals.
Have any of you ever watched the behind-the-scenes of your favorite shows or movies? Or looked into the making of your favorite animated films? If you have, you've probably noticed the multitude of people on set or in the studio at any given time. Media production projects are increasingly complex and require many moving pieces to make the idea a reality. The same applies to the launch of a new product, the creation of a new experience, and even the production of a new advertising campaign – they are highly creative projects that require various disciplines to bring a creative vision to life. In addition to discipline-specific art and design professionals, these projects also require a creative approach to management. They need creative strategists, producers, coordinators, talent managers, and big-picture thinkers that can bring all of the pieces together. That's what we do in the Business of Art and Design program. 

What are the benefits of studying art and gaining a creative skill set?
Cassidy Garbutt
Senior Admissions Counselor
Studying art and gaining a creative skill set is valuable for many reasons including intellectual development, personal development, and career development. Companies need creatives to help tell their stories visually and artists with creative skill sets can do that. More conceptually speaking, artists are comfortable in fluid, uncertain situations, and understand how to work in process-driven environments. These are skills that translate well into any workplace.
Jamie Deruyter '97
Faculty, Entertainment Design
Creative skills can be applied to countless businesses and industries. These skills will never be obsolete. The need for creativity will always be there. It's rewarding, too. Being creative is exciting. The work is typically always fresh and new. You'll never be bored.
Jeff Schwartz
Associate Vice President for Academic Affairs and Dean of Undergraduate Studies
See above, I think it really comes down to the diverse and multi-use skill sets you will achieve through an art and design degree. 
Kathleen Sobr
Department Head, Business of Art and Design
The greatest benefit is learning how to turn your passion for creativity into a professional career. As a Ringling College student, you will be exposed to various fields and roles within the creative industries while gaining a competitive skill set. Unlike traditional business programs, Business of Art and Design students learn to think like a designer and develop an understanding of the creative process. Ringling College's creative community provides the perfect environment to learn and practice these skills. 

Which major is right for me?
Cassidy Garbutt
Senior Admissions Counselor
Ringling College of Art and Design offers 13 distinct, creative majors. Our knowledgeable admissions counselors are here to help you navigate your admissions process and help you select the major that is best for you. I recommend looking at our website and spending some time on our "majors" web pages. Try to envision what your life would be like daily as a computer animation student versus a graphic design student or a game art student. Attend our major-specific virtual information sessions and email the admissions office to schedule a one-on-one Zoom meeting with an admissions counselor to review your artwork and discuss how it best aligns with one of our award-winning programs. We want you to excel at Ringling College and choosing the major that is right for you is an important part of that process.
Jamie Deruyter '97
Faculty, Entertainment Design
Follow your passion, not just what's hot and trendy. If you're doing what you love, success and money will naturally follow. Then, your daily practice won't feel like work. You'll be spending time creating stuff that really feeds your soul. I know it sounds cliche, but it really is true. 
Jeff Schwartz
Associate Vice President for Academic Affairs and Dean of Undergraduate Studies
We offer 13 different majors and each of them offers a different experience, skill, and work environment. I believe a student needs to consider what they enjoy doing first. Do you see yourself working on a computer or making things with your hands? Do you like creating stories and assets or do you prefer working more abstractly or conceptually? Do you like working with clients or independently? Are you able or interested in working with the human figure? Are you passionate about communicating? Do you love type and color and graphics? Once a student begins to answer these questions, a choice related to a major becomes easier to identify.
Kathleen Sobr
Department Head, Business of Art and Design
Start by looking at the major's pages and pay close attention to the career paths and the alumni stories for each major. If you are really on the fence about committing to a single discipline, look for majors that develop skills that are transferable across industries and prepare students for a range of jobs – this way you have more career opportunities upon graduation. And most importantly, ask questions. Contact admissions or reach out to the department heads to learn more about the programs. We are always willing to help future students as they make this decision. 

What advice do you have for applying to art school?
Cassidy Garbutt
Senior Admissions Counselor
Applying to art school is an exciting process. I recommend starting the process early. Speak with your parents and teachers about your interest in art school as a high school student. Check out our PreCollege program – our four week summer intensive program for students ages 16-18 where you can study with faculty, live on campus, and experience life as an art student. As a sophomore or junior in high school, attend National Portfolio Day to speak with college admissions representatives to receive feedback on your portfolio. When you are a senior, start your application in September. Ask your school to send us your official transcripts and submit the Common Application when it opens. Email the admissions office to schedule a one-on-one portfolio review with your admissions counselor and to confirm that your application is complete. Good luck. I am excited for you!
Jamie Deruyter '97
Faculty, Entertainment Design
Go for it! Don't let anyone tell you you can't make a living in art and design because it is absolutely untrue. You've got this.
Jeff Schwartz
Associate Vice President for Academic Affairs and Dean of Undergraduate Studies
For many of our majors, the portfolio is a critical piece of the application process. I always recommend that a student applying to Ringling College should work with a mentor, teacher, or reach out to one of our faculty or admissions counselors for advice and editing of submissions material. Oftentimes, students do not realize they already have great examples of work even if they are not "finished projects." For the majors that do not rely as heavily on the visual portfolio I recommend engaging with the department head of the program and asking questions about the application material. Always consider submitting work that tells your story, shows examples of your skills related to the program you are applying to, and do your homework to understand the program you are applying to.
Kathleen Sobr
Department Head, Business of Art and Design
Get started early, even if you are still considering other options. It can take a while to get all of the application materials together and prepped for uploading to the application sites. Don't overthink it or overcomplicate it, either. You do not need a visual art portfolio to apply to the Business of Art and Design program. Instead, we ask applicants to upload a short written statement (maximum of three pages) describing their interests in art, design, and the creative industries. Tell us why you wish to pursue a creative business degree and what you hope to achieve as a student here. And again, don't hesitate to reach out if you are stuck or have questions.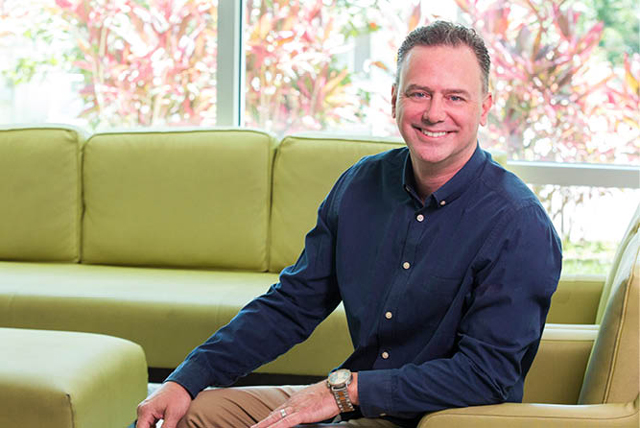 Faculty, Entertainment Design, Ringling College
Jamie DeRuyter '97 earned a bachelor's of fine arts degree in computer animation from Ringling College of Art and Design. He joined the faculty at Ringling College in 2002. Teaching in the Computer Animation department for 8 years, he helped hundreds of students achieve their dreams of working in the animation industry at renowned studios such as Pixar, Dreamworks, Sony, Blue Sky, Illuminations, and many more.
While teaching, DeRuyter maintained an active professional practice creating animation and visual effects for multiple experiences and theme park rides, including The Radio City Christmas Spectacular, Sesame Street on Ice, Twister Ride It Out, Revenge of The Mummy, Dueling Dragons, The Simpsons, and Antarctica: Empire Of The Penguin.
In 2008, DeRuyter joined the team that created the Game Art major at Ringling College. There he taught for another decade, helping students blaze a trail into the game industry. He has created animation and visual effects for several game titles, including Uncharted: The Nathan Drake Trilogy, the award-winning remake of Shadow of the Colossus, and, most recently, he created visual effects for the remake of the classic game, Demon's Souls.
DeRuyter has shifted his professional practice back over to themed entertainment experiences, and he has had the amazing opportunity to help start another new major at Ringling College: Entertainment Design. This program teaches students to conceive, visualize, and realize innovative design solutions that bring immersive entertainment experiences to life.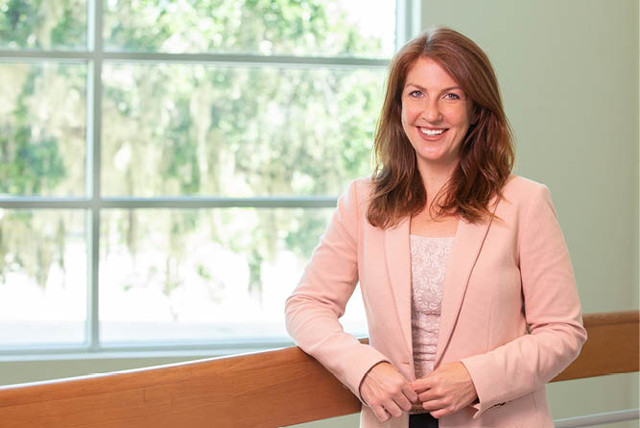 Senior Admissions Counselor, Ringling College
Cassidy Garbutt is a visual artist and senior admissions counselor at Ringling College of Art and Design. She has a bachelor's degree in communication studies and a master's degree in communication and media studies from Marquette University as well a master's of fine arts degree from The George Washington University. Garbutt's artistic practice uses photographic tools and painting processes to create work that questions medium specificity, scale, and abstraction. Select exhibitions include: Unusual Behavior, The Carolyn M. Wilson Gallery, University of South Florida (2022); Art in Common Places, Public Art Exhibition, Sarasota, Florida (2021); Not So Concrete, D.C. Commission on the Arts and Humanities, D.C. (2020); The Saloon II, Spaaces, Sarasota, FL, (2020); Forever – is composed of Nows –, Gallery 102, Washington, D.C., (2016); Das Spreehof Projekt, Kunst Am Spreeknee, Berlin, Germany (2015), among others.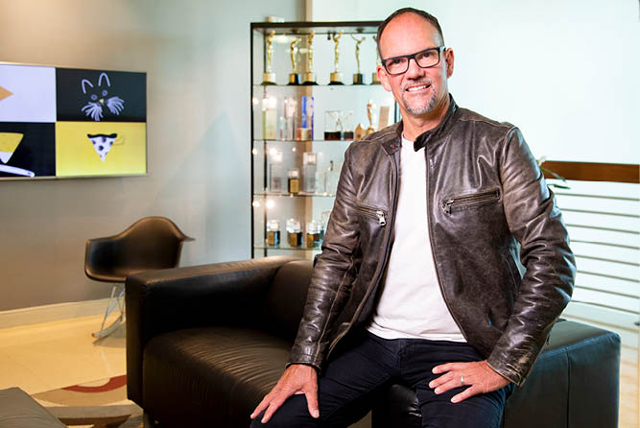 Associate Vice President for Academic Affairs and Dean of Undergraduate Studies, Ringling College
Jeff Schwartz received his bachelor's of fine arts degree from The School of the Art Institute of Chicago and his master's of fine arts in painting and drawing from American University in Washington, D.C. He has also studied at the Harvard Graduate School of Education, Chautauqua School of Art, The Vermont Studio School, and the Lorenzo di Medici School of Fine Arts in Florence, Italy. His work has been exhibited nationally and has won numerous awards. Schwartz began teaching at Ringling College in 1998 and became the head of the Illustration department in 2012 and was appointed the dean of undergraduate studies in January 2016.  
Before coming to Ringling College, he taught painting at Dartmouth College in New Hampshire. He was an original member of sARTq, a grass-roots artists collective that hosted community-based outreach events from 2009 to 2012. Schwartz is the proud owner of an excessive number of eclectic bikes and Italian coffee machines. In his free time, he bikes, cooks for friends, and enjoys a good cup of coffee and bourbon after 5 pm.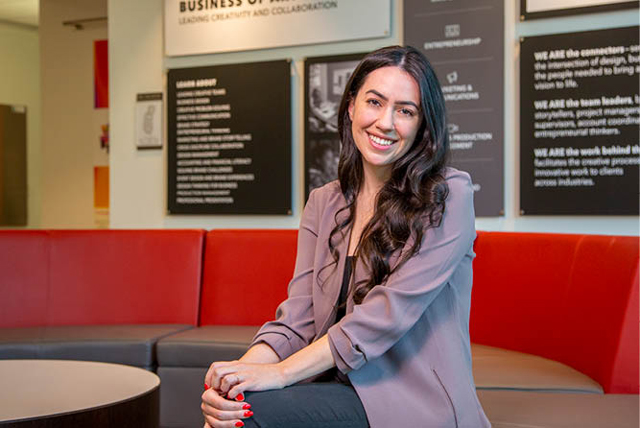 Department Head, Business of Art and Design, Ringing College
Kathleen Sobr is the department head for the Business of Art and Design program at Ringling College. Throughout her career, she has worked across industries as a project manager and producer of live-action and animated content, from commercial pre-viz for P&G and Pfizer to Sesame Street shorts to full graphics packages for MTV World and National Geographic. Sobr earned a bachelor's degree in the business of art and design from Ringling College and a master's degree in arts and project management from Birmingham Institute of Art and Design (UK). She joined the faculty at Ringling College in 2016.
Turn your passion into your profession at Ringling College.
Learn more about our top-ranked programs.